Isaac made his living through farming but also served, for many years, as a "local preacher" in the Methodist Church. He and Mary may have been Baptists in their youth, as the Meigs County marriage records show they were united by James Hovey, a "Minister of the Gospel of the Baptist Church." Both of their obituaries mention their subsequent conversion to Methodism, and even give the dates of these events. (Mary, it seems, hesitated more than a year longer than Isaac.)
About 1836-37, Isaac and Mary relocated to the area of Camargo, Illinois (which was then in Coles County but later became part of Douglas County), along with Isaac's parents and some of his siblings. As early as 1842, though, they were on the move again, moving on to Holt County, in northwestern Missouri. There they remained for about 10 years, during which time, among his other responsibilities, Isaac served as a Justice of the Peace and performed several marriages.
In 1852, they moved up to Fremont County, Iowa, settling along Camp Creek about 5 miles north of Sidney. There they once again lived near many of the same relatives who had been their neighbors in Illinois, but who had not made the move to Missouri. Isaac continued his ministry in Fremont County, joining with other Methodist preachers to present a series of camp meetings and revivals.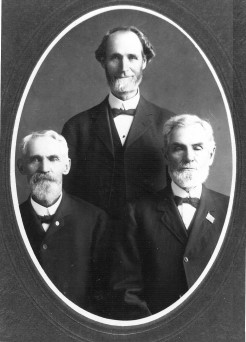 Isaac and Mary's three sons (left to
right) John, Joseph, and Elza
Of Isaac and Mary's eight children, the first three were born in Ohio, the fourth in Illinois, the next three in Missouri, and their last one in Iowa. They were:
When the Civil War broke out in 1861, Isaac was too old to serve, but his son John served two years in Company A of the 8th Iowa Cavalry. Many other relatives of Isaac and Mary also served, and these included two of Mary's brothers, one brother-in-law, and eleven of her nephews, four of whom died in the effort. In addition to these, Isaac's son Joseph and several other relatives also enlisted in the local militia known as the Southern Border Brigade, which saw no significant action during he war.
In 1868, Isaac and Mary moved across the Missouri River to Falls City, in the southeastern corner of Nebraska (Richardson County). There, Isaac obtained sufficient land to provide 80 acres for each of his three sons and for his daughter Jane and her husband Ambrose Humphrey, so all of these family members soon followed them to Falls City. Inasmuch as Isaac and Mary's two youngest daughters were still in the parental household, they then had all of their children close to them except for their eldest daughter Sarah Laird, who had moved to California, and their other married daughter, Susannah Wilson, who remained in Iowa with her husband.
Decades later, Mrs. Isham Reavis, recollecting the early days of Falls City, wrote: "Two other ministers impressed me, Rev. Isaac Martin and Elder Lemon. Isaac Martin was a farmer whose farm on the Muddy enclosed a fine grove of trees and a spring. It was the earliest camp-meeting grounds in this county. He had a large family and among them was Elza Martin, a man of contrition and earnestness. There were never two better men than this father and son—unselfish, sincere and faithful." (Falls City Daily News, 20 June 1930, Fri., p. 3.)
Isaac remained in Falls City until his death in 1881. According to a memoir by Minnie Alice Rhoads, Mary went to stay with her daughter Sarah Laird after Isaac's death (which would have meant moving to California). If Mary made such a move, she did not stay there more than a few years, as the Nebraska state census of 1885 shows her living with her daughter Lucinda Crook in Falls City. Further, Mary's obituary, from 1894, states that she died "at her home two miles north of Falls City." Isaac and Mary were both laid to rest at Steele Cemetery in Falls City.