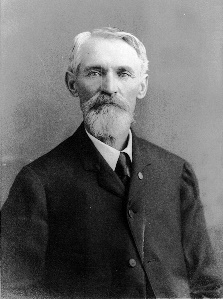 John Irwin Martin
John Irwin Martin, the fourth child of Isaac and Mary (Irwin) Martin, was born 12 June 1839 in the area of Camargo, Illinois, which was then Coles County but is now in Douglas County. His family then moved to Holt County, Missouri, when John was 3 and then to Sidney, Fremont County, Iowa, when he was 13.
On 19 September 1860, he married Rachel Reeves in Fremont County. She was born 11 December 1840 in Scipio Township, Meigs County, Ohio, the daughter of Joseph and Cynthia (Robinette) Reeves. The Reeveses had been neighbors of John's parents when they lived in Meigs County in the early 1830s, and no doubt the families became reacquainted when the Reeveses moved to Fremont County, Iowa, in 1854.
John and Rachel had ten children, three of whom died in childhood. They were: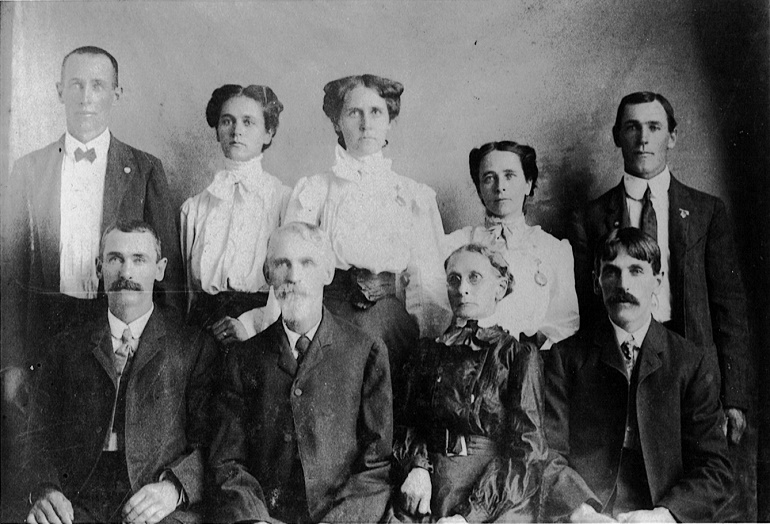 John I. and Rachel (Reeves) Martin with their seven grown children. In the back row, left to right, are Joseph, Ella May, Clara, Mary, and John A. In the front are Charles, John, Rachel, and Elza. (Note: I've received positive identification of all family members except Ella May and Mary. However, I assume the shorter woman on the right is Mary, because she looks older than her taller sister on the left.)
As a young man, John made his living through farming, though he also served as a local preacher for the Methodist Church, like his father and his brother Elza. After the Civil War began, he enlisted in the local militia known as the Southern Border Brigade. As the war dragged on, in August 1863, John joined the 8th Iowa Cavalry. The day John enlisted, August 9th, was the same day John and Rachel lost their firstborn child, Sarah. It's hard to know whether that tragedy entered into John's decision to enlist or whether it was just a sad coincidence. John reported to his unit at Davenport, Iowa, the following month and served until the unit was disbanded in August 1865. The 8th Iowa Cavalry engaged in several battles in Tennessee and Georgia. During John's service, Rachel was left at home with the couple's second child, Charles. Many of John and Rachel's relatives also served during the war; some were killed or wounded.
John returned to Sidney, Iowa, after the war. Then in 1869, he and Rachel moved to Falls City, Richardson County, Nebraska, to join his parents, his two brothers, and three of his sisters, who had all moved there. According to John's pension application, however, he returned to Sidney in 1872, remained there for 5 years, then spent 6 months in Texas before moving once again to Falls City in May 1878. The application doesn't clarify why he made these moves, but it's interesting to note that his first move, from Falls City back to Sidney, seems to coincide with the time when John found that he was no longer able to continue farming.
John's first application, filed in 1886, states, "My occupation the first six years [1866–72] was farming. Since that time I have been keeping bees as I was not able to follow farming, could not do the work. My disability occured [sic] at Camp Roberts, Iowa near Davenport, was cused [sic] by Measles and mumps at our place of rendezvous. Have been an invalid ever since. Have not been able to follow my occupation for the last 14 years." (Seems curious, since John's occupation was still listed as "farming" in the 1885 Nebraska State Census and in the Federal censuses of 1880 and 1900.)
The birthplaces of John and Rachel's 10 children reflect their moves. The first four were born in Iowa between 1861 and 1867; then they had Della in Nebraska in 1870. The next four births, from 1872 through 1878 were back in Iowa again (and, interestingly, the fact that Clara was born in Iowa in January 1878 proves that Rachel did not accompany John on his 6-month visit to Texas, from November 1877 to May 1878). Finally, they had moved back to Nebraska again before their youngest child, Ella, was born there in 1880.
Times were hard for the couple during these years, and somehow, it seems, the month of August was particularly cruel. As mentioned above, their daughter Sarah died in August 1863. Their daughter Della, 1½ years old, died in August 1871. And finally, in a tragic accident,* their daughter Susan was killed by John's brother-in-law, Isaac Rhine, in August 1879. She was just 5 years old.
In the spring of 1890, John and his family moved to Blaine, Washington (following John's brother Joseph), but they returned Falls City just 6 months later. According to The Falls City Journal of 12 September 1890, John found Washington's damp climate to be "injurious to his health."
About 1891, John and Rachel, along with all of their living children, moved to Delta County, Colorado, although sons Charles and John A. returned to Nebraska after just a few years in Colorado. The 1900 census also shows several other of John's relatives in the same precinct of Delta County (later to be called Paonia), including his sister Mary Rhine and her son, his sister Lucinda Crook with her husband and son, his sister Jane Humphrey and her daughter Anna Pace, his uncle Archelaus Martin, and Archelaus's son William Henry Martin with his wife and eight children. Rachel's brother Hugh Reeves had also relocated to Delta County by this time.
Rachel died in Paonia, Delta County, Colorado 15 December 1908. After her death, John took to traveling quite a bit (transcontinental rail service was well established by then). He would spend the winters in San Diego, California, and visit with his children in Colorado and in Nebraska in the summertime. In 1923, he applied for an increase in his pension to cover the cost of a personal caretaker, as he was then very weak and sickly. A year later, 9 September 1924, he passed away in San Diego. His body was shipped back to Paonia, Colorado, so he could be laid to rest next to his wife, Rachel. Both are interred at Cedar Hill Cemetery in Paonia. Newspapers in Paonia published obituaries for both John and Rachel.
If you can suggest any corrections to the information above or provide any further details about the lives of John, Rachel, and their descendants, please contact me at the address shown in the image below:

Thanks,
—Pete Martin
Return to Isaac Martin bio page.
Return to John Martin Family home page.

*FALLS CITY GLOBE-JOURNAL, Aug. 16, 1879, p. 3, col. 3:
Last Thursday a sad accident happened on the farm of Mr. Isaac Martin, northeast of town. Isaac Rhine and John Martin were engaged in stacking hay, and Mr. Rhine was on the ground pitching, when Mr. John Martin's little girl, aged about five years, came up behind him, and he not knowing she was near him, accidentally struck her in the face with the pitchfork, one of the tines penetrating the skull just over the eye, and entering the brain. The child lived until one o'clock Sunday afternoon, and was buried Monday forenoon. The funeral sermon was preached by Rev. Mr. Britt, at the Methodist church.