Martin Relatives in the Civil War
The American Civil War, from 1861 to 1865, was an all-consuming national tragedy, affecting all American families to one extent or another. So far, I have identified only three direct descendants of John and Sarah (Stanley) Martin who served in combat units during this monumental struggle, but the Martins had many in-laws, cousins, and other relatives who served and fought, some of whom were injured and some of whom lost their lives.


John I. Martin
The Direct Descendants
John Irwin Martin enlisted in Iowa 8th Cavalry, Company A, at Sidney, IA, 9 Aug. 1863, as 4th Corporal. He served 2 years and was promoted to Second Sergeant by the time he mustered out 13 Aug. 1865, at Macon, GA. The 8th Iowa Cavalry engaged in several battles in Tennessee and Georgia. John later applied for a pension based a disability that resulted from mumps and measles he had contracted while in the service.
John was a son of Isaac Martin.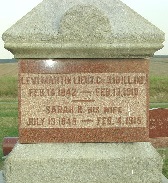 Levi Martin's head≠stone, Camargo, IL
Levi Martin enlisted in the 79th Illinois Volunteer Infantry, Company E, at Tuscola, IL, on 7 Aug. 1862. On account of physical disability he was mustered out at Nashville, TN, 29 Jan. 1863. Having healed, he enlisted again in the 18th Illinois Volunteer Infantry, Company D, at Danville, IL, on 4 Nov. 1864. He was sent to Little Rock, AR, where the regiment was reorganized and he was elected Orderly Sergeant of his company, then on 28 June 1865, he was commissioned Second Lieutenant. He was mustered out of the service 13 Jan. 1866 at Springfield, IL. He was on regiment and garrison duty principally, and had charge of building pontoon bridges at Little Rock, AR.
Levi was a son of John Martin, Jr.


Oren B. Martin (shown as "Orren" in the official roster) enrolled in 140th Ohio Infantry, Company C, 2 May 1864 at Gallipolis, Ohio; held rank of Sergeant; mustered out with company 3 Sept. 1864.
Oren was the son of Joseph Martin.

Other Relatives and Associates
James Barnett enlisted in the 79th Illinois Infantry, Company G, 18 Aug. 1862; deserted 10 July 1863.
James married John Martin Jr.ís daughter Nancy A. Martin after the war (1867).


Andrew J. Harshbarger enlisted in the 7th Regiment of the Indiana Infantry, Company B, on 30 Aug. 1861. Later, Corporal Andrew J. Harshbarger transferred to Company A of the Reorganized 20th Regiment on 14 Dec. 1863 and mustered out as a Sergeant on 12 July 1865. Andrew saw many engagements during his service, including Second Bull Run, Antietam, Fredericksburg, Chancellorsville, the Wilderness, Spotsylvania, the siege of Petersburg, and the Battle of Gettysburg.
Andrew married Ambrose Martinís daughter Louisa after the war (1866).

Eli G. Irwin enlisted in the Iowa 4th Cavalry, Company A, on 10 Aug. 1861, and was promoted to Saddler June 30, 1862. Eli died on 4 Sept. 1863 at Vicksburg, MS, of disease, and is buried in the National Cemetery at Vicksburg, Sec. F, Grave 480.
Eli was a son of Mary Irwin Martinís brother John (and also the younger brother of Isaac M. Irwin, listed below).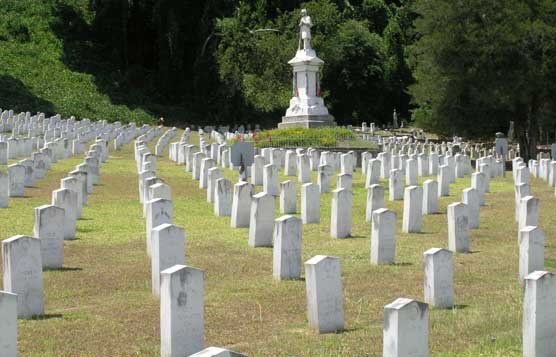 The National Cemetery at Vicksburg, MS
Emerick Irwin enlisted in the Iowa 4th Cavalry, Company A, on 21 Dec. 1863. Mustered out with company at Atlanta, GA, on 8 Aug. 1865.
Emerick was a son of Mary Irwin Martinís brother William.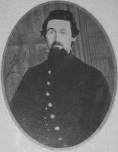 Isaac M. Irwin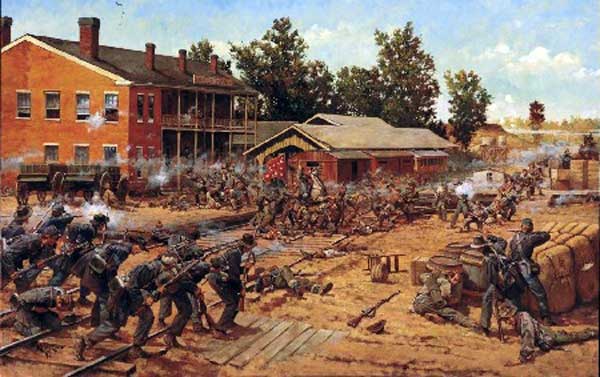 Artist's depiction of the Siege of Corinth, MS
William H. Irwin enlisted in Iowa 15th Infantry, Company F, 21 Jan. 1862. Mustered Feb. 19, 1862, Shiloh, Tenn. Discharged for disability 4 Aug. 1863 at St. Louis, MO.
William was a brother of Mary Irwin Martin.

Hamlin R. Laird enlisted in Iowa 4th Cavalry, Company A, 10 Aug. 1861; appointed 4th Corporal on muster-in. Mustered out Dec. 4, 1864.
Hamlin was a brother of Sarah Martinís husband William T. Laird.

Samuel K. Lyon (shown as Lyons in the official roster) enlisted in the 7th Independent Battery, Ohio Light Artillery on 5 March 1862 and mustered out on 6 March 1865, at Vicksburg, Miss. During his service, he participated in the siege of Corinth, Miss., the Battle of Hatchie River, and the siege of Vicksburg, Miss.
Samuel married Joseph Martinís daughter Louisa after the war (1866).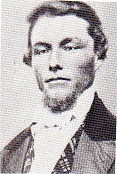 Samuel P.
Macomber

In addition to the relatives listed above, who served in regular combat units during the war, many Martins and their relatives enlisted in what was called the Southern Border Brigade. This was essentially a local militia consisting of men from all the counties along the southern border of Iowa, organized to guard against rebel insurgents sneaking into Iowa from Missouri, and also to provide aid to Union loyalists living in northern Missouri. These men assembled and drilled, designated sentries, and set up systems of messengers to spread the alarm if suspected intruders were spotted.
The Southern Border Brigade did not engage in any significant battles during the war, but it is likely that its presence ó its mere existence ó served as a deterrent to Confederate raids into Iowa. Its history is described in more detail in The History of Fremont County.
Volunteers from Fremont County were organized into Company A of the 4th Battalion. The following Martin relatives and associates were listed on its roster. All of these men enlisted on 17 Sept. and mustered on 18 October 1862. Some of them later enlisted in regular combat units, and so were already listed above with details of their subsequent service.
Humphrey, Ambrose W.
Irwin, Hugh.
Irwin, John.
Irwin, John C.
Irwin, John M.
Irwin, Levi.
Martin, Archelaus S.
Martin, John I.
Martin, Joseph W.
Reeves, Abner M.
Reeves, Christopher C.
VanNess, John.
VanNess, Moses C.
Wilson, James H.
Return to John Martin Family home page.