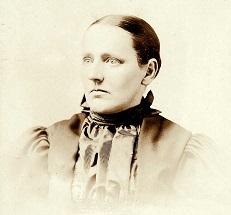 Lucinda Martin Crook

Lucinda A. (Martin) Crook, the eighth and youngest child of Isaac and Mary (Irwin) Martin, was born 4 April 1855 at Sidney, Fremont County, Iowa. When she was 13, her family moved down to Falls City, Richardson County, Nebraska, which was about 50 miles south and across the Missouri River..
There, on 15 March 1873, Lucinda married William Riley Crook. He had been born in Andrew County, Missouri 18 December 1844 but had lived in Richardson County since he was 9 years old (before Lucinda was born). His parents, Isaac and Lucinda (Kerby) Crook, were among the earliest settlers of Richardson County. In addition to being a neighbor, William also may have been Lucinda's teacher for a while, for he was one of the teachers at the District 48 school (where Lucinda's sister Mary and her brother-in-law Isaac Rhine also taught).
Between 1874 and 1877, William and Lucinda had three sons, all born in Falls City:
Zeno Erskin Crook, 1874–1951 (married Jessie Stanton)
Willie J. Crook, 1876–1877
Joseph Crook, 1877–1952 (married Loma L. Burkart)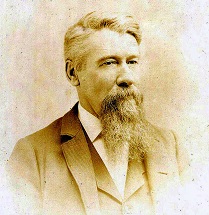 William Riley Crook

By 1880, however, they had moved down to Atchison, Kansas, where, according to the 1880 census, William was employed as a "mail agent." This apparently was a temporary move, as the Nebraska state census of 1885 shows them back in Falls City, and William's occupation then is shown as "Postmaster." Lucinda's mother, Mary Martin, is living with them in 1885, and her brother John I. Martin apparently lives nearby, as his family is the very next listing in the census.
From the obituary of Mary Martin, we know that Lucinda and her family were still in Falls City as of 1894. The 1900 census, however, shows William, Lucinda, and son Joseph living in Delta County, Colorado. (Zeno apparently was then pursuing graduate studies at the University of Nebraska. He is erroneously shown as "J. E. Crook" in Lancaster County, NE.) Relatives then living nearby in Delta County (in the area later incorporated as the town of Paonia) included Lucinda's brothers John and Joseph and her sisters Jane Humphrey and Mary Rhine.
William and Lucinda remained in Paonia until William's death in 1921. William's occupation was shown as "Farming" in the 1900 census and as "None" in 1910 and 1920. It is known, however, that William was one of the organizers of the First National Bank of Paonia. After William's death on 14 April 1921, Lucinda moved down to Denver, where her son Zeno then lived, and she remained there until her death on 6 January 1942. (See obituaries here.) William and Lucinda's bodies were both returned to Falls City, NE, for burial.
If you can suggest any corrections to the information above or provide any further details about the lives of William and Lucinda (Martin) Crook or their descendants, please contact me at the address shown in the image below:

Thanks,
—Pete Martin
Return to Isaac Martin bio page.
Return to John Martin Family home page.