Jane Martin Humphrey, the third child of Isaac and Mary (Irwin) Martin, was born 6 Nov 1833 in Meigs County, Ohio. At about the age of 3, she moved with her family to the area of Camargo, Illinois, which was then Coles County but is now in Douglas County. Then when she was 9, the family moved on to Holt County, Missouri. There in Holt County, she married Ambrose W. Humphrey on 19 June 1851.
Ambrose was the son of William H. and Anna (Bellows) Humphrey. He also had been born in Meigs County, Ohio, on 12 April 1820, and was still living near there (specifically in Athens County) at the time of the 1850 census. I don't know whether it was just by coincidence that he found his way to Holt County, Missouri, the following year or whether he had been acquainted with the Martins in Meigs County years before and specifically followed them to Missouri. While in Ohio, he had been married, in 1845, to Harriet F. Camp, but she had died in childbirth in August 1849, and her infant daughter also had not survived the birth.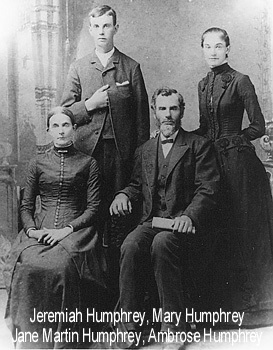 Jane and Ambrose with their two
oldest children, early 1870s(?).
Various censuses describe Ambrose's occupation as a cabinet maker (1850), a carpenter (1856, 1860), and a farmer (1870, 1880).
In 1852, Ambrose and Jane moved to Fremont County, Iowa, along with Jane's parents and all of her siblings. The History of Fremont County, Iowa (p. 450) shows that Ambrose was serving as a Justice of the Peace there at the time of the 1852 Presidential election. The Iowa state census of 1856 shows Ambrose, Jane, and their two oldest children living in the same household with Isaac and Mary Martin. In the 1860 U.S. census, Ambrose and Jane have their own household but apparently still live close to Jane's parents and siblings (who occupy the very next household listed in the census). They all lived then in Sidney Township of Fremont County.
The Humphreys remained in Fremont County throughout the Civil War. Many of their relatives and friends fought in that conflict, including two young men — Irwin Mooney and Abner Reeves — who had been residing in the Humphreys' household at the time of the 1860 census. Irwin Mooney died during his service. Ambrose himself enlisted in the local militia known as the Southern Border Brigade, in 1862.
By 1870, Ambrose and Jane had moved across the Missouri River to Richardson County, Nebraska, along with most of Jane's original family. They apparently lived south of Falls City, close to all three of Jane's brothers and their families, while Jane's parents and her two youngest sisters lived together a couple of miles north of Falls City.
Ambrose and Jane had four children, three born in Iowa and the fourth in Nebraska:
The Federal census of 1880 and the Nebraska State census of 1885 both show Ambrose and Jane and their two youngest children still living in Falls City Precinct of Richardson County. In May of 1891, however, Jane sued Ambrose for divorce on the grounds of abandonment, and the divorce was granted the following October. (See newspaper clippings.)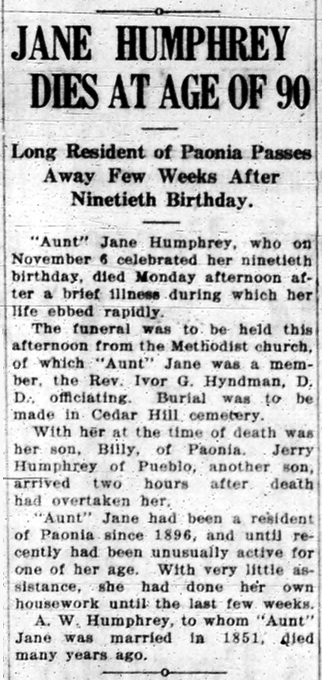 Jane's obituary from The Paonian newspaper
of Thursday, 31 January 1924, p. 1.
After that, Ambrose went off to live in Norton County, Kansas, in a household with his brother Samuel Humphrey and his nephew John Humphrey. Jane remained in Falls City until July 1896, when she and her daughter Anna moved to Paonia, Delta County, Colorado (The Delta Independent, 22 July 1896, Wed., p. 3). Many of her Martin relatives already lived in that area or came shortly after, including her brothers John and Joseph Martin and her sisters Susannah Wilson, Mary Rhine, and Lucinda Crook. Six months after their arrival in Paonia, Anna married Charles Pace there (5 January 1897).
Ambrose continued living in Kansas until 1899. Newspaper accounts from Kansas and Nebraska relate how he was badly burned in late March 1899, when he fell unconscious onto a hot stove, and how he finally died of his injuries on 21 April 1899 (after having been moved to the home of his son Jeremiah in Aurora, Nebraska). It is rumored in the family that Ambrose was a heavy drinker, which may have contributed to this bizarre accident (and might also have been one of the causes for the divorce). Ambrose was buried in Aurora, with Masonic honors.
The 1900 census shows Jane in Paonia living with Anna and Anna's husband, Charles Pace. Although she had then been divorced from Ambrose for more than 8 years, her marital status is shown as "widowed." Sadly, Anna passed away in 1906. Thereafter, the 1910 and 1920 censuses show Jane still in Paonia, living by herself. There, she passed away on 28 January 1924. The local newspaper ran an obituary for her, which is shown at right, and she was buried in Cedar Hill Cemetery at Paonia, side-by-side with her sister Susanna Wilson.
If you can suggest any corrections to the information above or provide any further details about the lives of Jane, Ambrose, and their descendants, please contact me at the address shown in the image below:
Thanks,
—Pete Martin
Return to Isaac Martin bio page.
Return to John Martin Family home page.