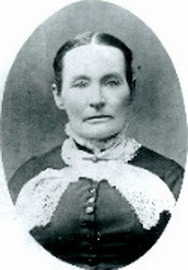 Susanna Martin Wilson

Susanna Martha (Martin) Wilson, the fifth child of Isaac and Mary (Irwin) Martin, was born 19 Aug 1843 in Forest City, Holt County, Missouri. In 1852, her family moved to Sidney, Fremont County, Iowa. There she married James Harvey Wilson on 5 April 1860, in a ceremony officiated by her father, Rev. Isaac Martin. James had been born 1 June 1833 in Athens County, Ohio, the son of Samuel and Martha B. (Martin) Wilson.
Although James's mother was a Martin who lived in the same county where Susanna's father and all of his siblings were born, we have found no close relationship between her Martin ancestors and Susanna's. Martha Martin's father was Abner Catlin Martin, born in Sussex County, NJ, in 1779, and her grandfather was John Martin, born in Somerset County, NJ, in 1739. That John Martin was a first lieutenant in the Continental Army during the American Revolution, and he did live in Athens County, Ohio, in his later years, but he was not the same as Susanna's grandfather John Martin.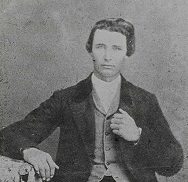 James Harvey Wilson

Recent DNA testing suggests there is some relationship between these two Martin lines, but the exact connection has not been found. It could be that James and Susanna were third or fourth cousins without even knowing it.
James's grandfather, Abner C. Martin, accompanied his daughter Martha Wilson and her family when they moved to Iowa in 1853, and he lived with them until his death in March 1860, the month before James and Susanna were married.
By the time of the census in June 1860, James and Susanna had set up their own household, which was probably next door to James's parents, as one listing follows the other in the census. Other close neighbors included Susanna's parents and the four of her siblings who were still in the family home (John, Joseph, Mary, and Lucinda), Susanna's sister Jane Humphrey with her husband and family, and Susanna's Aunt Sarah Jones with her four children. These are all listed in the census within one page of James and Susanna. They were all in Sidney Township of Fremont County.
James suffered from a partial hearing loss, which prevented him from serving in a regular miltary unit during the Civil War. He did, however, enlist in the local militia known as the Southern Border Brigade, along with all of Susanna's brothers. Although that brigade was not involved in any battles, James and Susanna were both deeply affected by the war. Many of their relatives fought in the war, and James's brother Josiah died of disease in Arkansas, while serving in the 4th Iowa Cavalry.
After the war, the 1870 census shows James and Susanna with their first four children up in Monroe Township, near the northeastern corner of Fremont County. Most of Susanna's Martin relatives had moved on to Nebraska by this time, except for her Aunt Sarah Jones, her Uncle Archelaus Martin, and their families.
It must have been shortly after the 1870 census was taken that the family moved down to Prairie Township, inasmuch as James Wilson's obituary, published in 1900, says, "About thirty years ago Mr. Wilson moved to the farm one and one half miles east of Nishna, near Farragut." Both the 1880 and 1900 censuses show James and Susanna, along with various children, living in Prairie Township of Fremont County. The 1900 census also shows their 6-year-old granddaughter Edith Pierce in the household. Edith is the daughter of their daughter Clara, who is also in the household. Clara's marital status is shown as widowed (her husband John Pierce died in 1895), but she is listed there as Clara Wilson, rather than by her married name.
James and Susanna were the parents of nine children:
Samuel Wilson, 1867–1868.
James Harvey Wilson died late in July 1900. His obituary shows a date of 27 July, but 26 July is shown on his tombstone at Sidney Cemetery. (The tombstone is probably correct.) Clara Wilson Pierce died 8 months later (4 April 1901), leaving young Edith (then 7) as an orphan.

Susanna adopted Edith and, about 1902, moved to Delta County, Colorado, where she had many relatives, including her brother John I. Martin and her sisters Jane Humphrey, Mary Rhine, and Lucinda Crook. The area where they all lived was later incorporated as the town of Paonia. Susanna remained there the rest of her days, died there 20 Feb. 1932, and is buried in Cedar Hill Cemetery at Paonia, side-by-side with her sister Jane Humphrey. An obituary for her was published in The Paonian newspaper.

If you can suggest any corrections to the information above or provide any further details about the lives of James and Susanna (Martin) Wilson or their descendants, please contact me at the address shown in the image below:

Thanks,
—Pete Martin
Return to Isaac Martin bio page.
Return to John Martin Family home page.