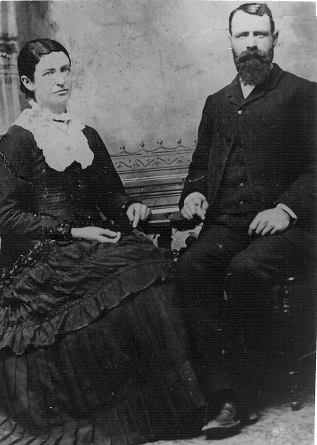 Mary and Isaac Rhine
Mary Marie (Martin) Rhine, the seventh child of Isaac and Mary (Irwin) Martin, was born 24 August 1850 at Forest City, Holt County, Missouri. Her family moved up to Sidney, Fremont County, Iowa, when she was 2 years old, and then to Falls City, Richardson County, Nebraska, when she was 18. These places are all within 50 miles of each other. The 1870 census shows Mary living in Falls City with her parents and her younger sister Lucinda. Her occupation is listed as "school teacher."
According to Lewis Edwards' History of Richardson County, Nebraska (p. 367), Mary was the first person to teach at the District 48 school, north of Falls City. The second teacher was W. R. Crook, who eventually married Mary's sister Lucinda, and the third teacher was Isaac Gilruth Rhine, who became Mary's husband at Falls City on 18 August 1870. He had been born 18 July 1850 in Blackford County, IN, the son of Martin Rhine and Sarah Prudence (Maddox) Rhine. He was also the nephew of Sarah Margaret Rhine, who had married Mary's brother Joseph 2 years earlier.
Isaac and Mary Rhine settled close to Mary's parents, her three brothers, and her sisters Jane Humphrey and Lucinda Crook. These families were close enough that they could all visit frequently and help each other with chores, and it was during one such family gathering that tragedy struck. According to the Falls City Globe-Journal of Aug. 16, 1879 (p. 3, col. 3):
Last Thursday a sad accident happened on the farm of Mr. Isaac Martin, northeast of town. Isaac Rhine and John Martin were engaged in stacking hay, and Mr. Rhine was on the ground pitching, when Mr. John Martin's little girl, aged about five years, came up behind him, and he not knowing she was near him, accidentally struck her in the face with the pitchfork, one of the tines penetrating the skull just over the eye, and entering the brain. The child lived until one o'clock Sunday afternoon, and was buried Monday forenoon. The funeral sermon was preached by Rev. Mr. Britt, at the Methodist church.
One of Isaac Rhine's descendants told me that the death of little Susan Nellie Martin haunted Isaac for the rest of his days.
The 1880 census shows Isaac and Mary still in Falls City Precinct along with their five oldest children (all daughters). The twins, Edith Mae and Mabel, were only 2 months old at that time, and are listed as "unnamed" in the census. In 1884, they moved down to Oxford, Sumner County, Kansas. Their last child (and only son) was born there in 1890. All told, the following children were born to Isaac and Mary:
Nettie E. Rhine, 1871–1907 (married Lee Walter Todd).
Myrtle Sarah Rhine 1875–1958 (married Elmer Robert Mercer).
Mary Alice Rhine 1878–1904 (married Charles Lamerton Rosecrans).
Edith Mae Rhine 1880–1958 (married Francis Lowell Tannehill).
Mabel Rosetta Rhine1880–1963 (married (1) her cousin Crary Judson Martin and (2) Charles Henry Eastman).
Isaac Richard Martin Rhine 1890–1964 (married (1) Fern Olive Easterday and (2) Marie Margaret Thompson).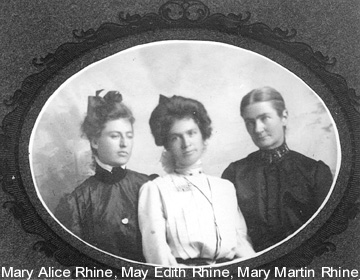 With the opening of the Kickapoo Strip in May 1896, the family moved down to Wellston, Lincoln County, in the Oklahoma Territory. There Isaac established himself as the town's postmaster and also operated a small general store, and there it was that he was cruelly murdered on 2 February 1898. The family was living in a set of rooms above Isaac's store. Isaac was awakened in the early hours of the morning by one of his daughters, who told him there was a man in the street below yelling that he needed some medicine for his sick wife. As Isaac went downstairs to open the store, the man fired both barrels of a shotgun through the glass front door, killing Isaac instantly. News articles published at the time described the murder in more detail, and also identified the suspected killer and his motive for the murder. Mary's brother Joseph wrote and published a touching obituary for his late brother-in-law. Isaac's body was returned to Falls City for burial.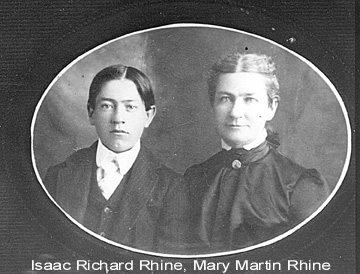 By the time of the 1900 census, Mary had relocated to Delta County, Colorado, along with her son Isaac, her daughter Alice Rosecrans, son-in-law Charles Rosecrans, and granddaughter Opal Rosecrans. Mary's brothers John and Joseph and her sisters Susanna Wilson and Lucinda Crook had all settled there as well, along many of their family members.
The next decade was a difficult time for Mary. Her daughter Alice Rosecrans died in 1904, and her daughter Nettie Todd died in 1907. The 1910 and 1920 censuses both show Mary living in Cowley County, Kansas, with her daughter Mabel Martin and her grandson Richard P. Martin. Mary's son Isaac is also in the household in 1910 (although his name looks more like "Jim" in the census record). In 1920, he has his own household but is still nearby, as he is listed (as "Richard Rhine") on the next census page.
Mary died at Burden, in Cowley County, 2 January 1930. She is buried in the Burden Cemetery.
If you can suggest any corrections to the information above or provide any further details about the lives of Isaac, Mary, and their descendants, please contact me at the address shown in the image below:

Thanks,
—Pete Martin
Return to Isaac Martin bio page.
Return to John Martin Family home page.