Rev. Elza L. Martin, the second child of Isaac and Mary (Irwin) Martin, was born 29 Oct 1831 in Scipio Township, Meigs County, OH. He moved with his family to Coles County (later Douglas County), Illinois, when he was about 5 years old, then to Holt County, Missouri, at about age 11, and subsequently up to Fremont County, Iowa, about 10 years after that. (Elza's middle initial, L, is taken from the faint imprint on his 1899 letter to his granddaughter Ivy Dorothy Martin. I do not know what the L stands for.) As his father had done, Elza chose to become a "local preacher" in the Methodist Church. I have no knowledge of whether he was ever formally ordained.
Elza married (1) Mary Angeline Stone in Fremont County, IA on 21 Jan 1853. She had been born in Missouri (probably Daviess County) about 1839,1 and she was the daughter of Jereba and Jane Stone. Tragically, Mary, who was only 14 at the time of her marriage, died about 6 months later due to complications from an aborted pregnancy.2
Elza married (2) Sarah Morris in Cass County, Nebraska Territory, on 16 November 1854. She was born 20 Jan 1837 in Vernon County, Missouri, the daughter of Rev. Milton Morris and Sarah "Sally" (Dodge) Morris. The Morrises moved to southwestern Iowa in 1849 and there became well acquainted with the Martin family, as Isaac Martin and Milton Morris worked together presenting several camp meetings and religious revivals in 1852–53.3 So it is likely that Elza and Sarah had already formed some affection for each other before her family moved to Cass County, NE, in the spring of 1854. The following November, Elza went to Cass County to marry Sarah, and their marriage was the first recorded in the official records of that county.5 Elza then moved to Cass County himself in April 1855,4 and he started the first Methodist Sunday School in Nebraska.2
Elza and Sarah's first two children were born there in Cass County. Then, in 1857, they traveled by wagon train to Napa County, CA, along with Sarah's parents and at least five of her siblings.2,6,7 They remained in California for seven years, during which time their third, fourth, and fifth children were born. Elza, Sarah, and their children returned to Iowa in 1864. Their youngest child, Elza Jr., reportedly died that same year, but I have no information about whether he died before, after, or during their return trip to Iowa. Sadly, Sarah herself died of consumption on 3 September 1865,2,3,6 at the home of her father-in-law, Isaac Martin, in Sidney Township, Fremont County, Iowa.3
An unpublished diary written by Sarah's brother, John Milton Morris,3 states that Sarah was "buried at the McKisic Grove in Iowa." There was an early settlement called McKissick's Grove about 3 miles east of Hamburg, Iowa. The only currently recognized cemetery in that area is the one now called Mount Olive, but even though it is a well maintained, well documented cemetery, no grave for Sarah Morris Martin has been identified there. I infer, therefore, that Sarah was buried either in a solitary grave or in a very small graveyard whose location is no longer known.
The children born to Elza and Sarah were:
Elza Martin Jr., 1861–1864?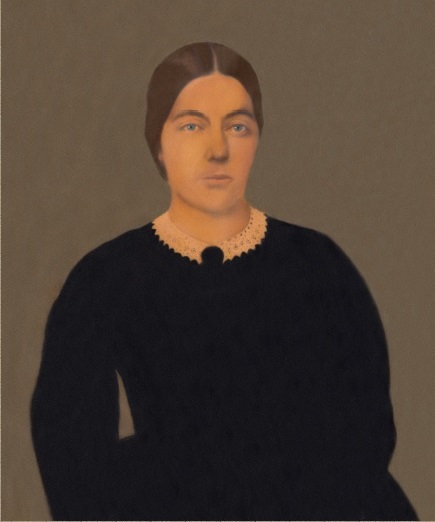 Eliza Ann (Image courtesy of Thomas Welch.)
Elza married (3) Mrs. Eliza Ann (Holland) Macomber in Page County, IA, 5 September 1867. She was born 26 August 1835 in Franklin County, Ohio, the daughter of Isaac and Mary (Burton) Holland. Eliza Ann had previously married Samuel Macomber in Clinton County, IA, 22 January 1854, and they had moved to Hawleyville, IA (on the Page County–Taylor County line) about 1855–56. During the Civil War, Samuel enlisted in the Union Army, and he died during that service in Louisiana 13 August 1864. Eliza Ann was left with two children from that marriage: Mary Catherine Macomber, born 26 April 1855, and John Wesley Macomber, born 24 June 1858.
Elza met Eliza Ann while serving as a Methodist circuit rider on the Hawleyville Circuit in 1866. He reportedly said that he "had never found anyone, man or woman, with as keen an intellect as was hers."2 Once they were married, Elza, Eliza Ann, his four children, and her two all lived together in Hawleyville for a couple of years. Then in 1869, they moved down to Richardson County, Nebraska, where Elza's parents had settled, and where his father Isaac had bought 80 acres of land for each of his three sons.2 Elza's land was in section 29 of Falls City Precinct, which is about 3 miles southwest of Falls City.6
Three children were born to Elza and Eliza Ann:
Elza Asbury Martin, 1869–1871.
The twins, born in 1869, were both called by their middle names (presumably to differentiate them from their parents). Tragically, Elza Asbury died of scarlet fever on 15 February 1871.2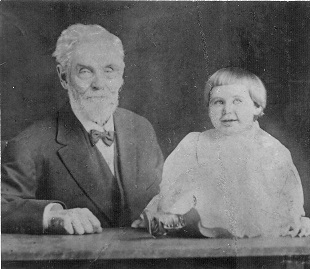 Elza in later years, with one of his grand-daughters? (Girl's exact identity unknown.)
Following Isaac Martin's death in 1881, Elza and Eliza Ann moved into Isaac's house, about 2 miles northeast of Falls City.2 Elza and Eliza Ann remained there in the Martin homestead throughout the remainder of Eliza Ann's life. She died of pneumonia on 23 March 1904. At least three local papers ran obituaries for her.
After Eliza Ann's death, Elza gave up preaching and sold the old homestead. Thereafter, he always made his home with Anna, his youngest daughter. In 1905, they moved together to Coweta, in the "Indian Territory" (now Oklahoma), where Elza's brother Joseph had become pastor of the local Methodist church, and Anna became principal of the local schools. In 1908, they returned to Nebraska, but this time to the town of Peru, where Anna was taking college courses at the Peru Normal School. Anna graduated in 1909, and they moved on to Dunbar, Nebraska, where Anna served two years as principal of the Dunbar schools. Then in 1911, finally, they moved to Nebraska City, where Anna would continue teaching for the next 25 years. There, in early June 1916, Elza fell ill. According his step-granddaughter Minnie Alice Rhoads,2 he "lay in a coma for two weeks. Suddenly he gained consciousness, sat up in bed and said, 'To think that I, Elza Martin, should be ushered into the presence of my King,' then laid back on his bed and breathed no more." He passed away on 20 June 1916, and his passing was duly noted by the local papers. Elza and Eliza Ann are buried together at Steele Cemetery in Falls City.
Extensive reminiscences of Elza and his family members are included in family histories written by two of his step-relatives. The following links lead to annotated excerpts from a memoir by his step-daughter Mary Catherine (Macomber) Crook and from a memoir by his step-granddaughter Minnie Alice (Macomber) Rhoads.
If you can suggest any corrections to the information above or provide any further details about the lives of Elza Martin, his wives, and his descendants, please contact me at the address shown in the image below:

Thanks,
—Pete Martin
Return to Isaac Martin bio page.
Return to John Martin Family home page.
Footnotes:
Census listings for Jerebb Stone, Fremont County, IA, 1850, and for Jeriber Stone, Daviess County, MO, 1840.
The diary of John Milton Morris. (See Archive copy at http://web.archive.org/web/20150205180512/http://chaumontdevin.com/johnmorris.txt.)
1860 census listings for the Elza Martin and Milton Morris families in Napa County, CA.