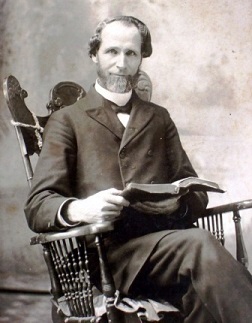 Joseph Wesley Martin
Rev. Joseph Wesley Martin, the sixth child of Isaac and Mary (Irwin) Martin, was born 8 Dec 1845 in Holt County, MO. When he was 6 years old, his family moved up to Sidney, Fremont County, Iowa (a distance of only about 25 miles), where he grew to adulthood. Joseph was 17 when the Civil War broke out, and 18 when he volunteered to serve in the local militia known as the Southern Border Brigade (which saw no significant action during the war). After the war, Joseph attended Tabor College in Tabor, IA, which probably is where he was ordained into the ministry.
In 1868, Joseph moved to Falls City, Richardson County, NE, along with his parents, both of his brothers, and three of his five sisters. There he married (1) Sarah Margaret Rhine on 12 Sep 1868. Sarah Margaret, more commonly known as "Maggie,"1 had been born 16 Aug 1849 in Blackford County, IN, the daughter of James and Eleanor (Wooten) Rhine. Both of her parents had died in Indiana when she was young (her father when she was 7 and her mother when she was 11), and she had come to Nebraska in 1865 with her older brother Martin Rhine.
The records of the Falls City Methodist Church show that Maggie sought to join the church in March 1868. Inasmuch as she had never been confirmed or even baptized, she was assigned to a confirmation class that Joseph was teaching. Six months later, they were married, and Maggie was finally baptized and received into membership in February 1869. Maggie's nephew Isaac Rhine (son of Martin) was also baptized into the church in July 1869 and later married Joseph's sister Mary in October 1870.
According to the Minutes of the Annual Conferences of the Methodist Episcopal Church, Joseph was "admitted on trial" to the Nebraska Conference in 1869 and "admitted to full connection" in 1871, at which time he was designated a Deacon. The minutes also record that Joseph transferred to the Des Moines Conference in 1875, and they show that he was assigned to the following churches in the following years:
1869 — Elkhorn, NE (now part of Omaha)
1870 — London, NE (a former town 5 miles west of Brownville)
1871 — Brownville, NE
1872–73 — Tecumseh, NE
1874 — Table Rock, NE
1875 — Little Sioux and Magnolia, IA
1876–77 — Anita, IA
1879 — Macedonia, IA
All of Joseph and Maggie's children were born during these years, and they were: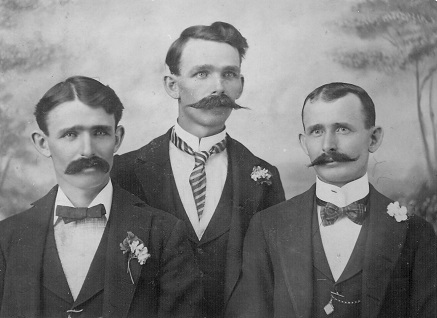 Joseph and Maggie's three sons, Brunie, Crary (or Clarence), and Zenas Martin.
Joseph and Maggie's marriage grew to be increasingly uncomfortable for both of them after the first couple of years, and eventually they were divorced, at Atlantic, Iowa, in 1878. Surprisingly, the Atlantic Telegraph published a transcript of Joseph's testimony at the divorce trial. That should be read with caution, though, as it presents only one side of what was, obviously, a very bitter dispute.
By the time of the 1880 census, Maggie had remarried and was living in St. Louis with her second husband, Rudolph Hiller. The census shows Joseph back in Falls City, NE, living with his parents. The three boys, Zenas, Crary, and Brunie, were with Joseph. Stella (mistakenly shown in the census as Stella Hiller) was in St. Louis with her mother.
Joseph married (2) Mrs. Margaret (Robison) Morrison on 3 November 1880. According to the marriage certificate, the ceremony was conducted by Joseph's brother Elza at the home of their father, Isaac Martin, in Falls City.
Margaret had been born 4 Aug 1839 in Henry County, Illinois, the daughter of Robert and Rose Ann (Mills) Robison. She had previously married John C. Morrison 15 Dec 1859 in Audubon County, IA, and had had six children with him: Franklin, Mary, Clarence, Emery, Annie, and George. Their youngest child was born in 1875, after which the marriage somehow ended. A Find-a-Grave site reports that John died in 1879, but he and Margaret may have divorced before then, as her marital status was listed as divorced in the 1880 census.
One of Margaret's daughters from her first marriage, Mary Addie Morrison, married Joseph's nephew William Hannibal Martin (son of Elza) in 1883.
After remarrying, Joseph continued his ministry, although the Methodist minutes no longer report his assignments year-to-year. From 1880 through 1884, he is listed as a "superannuated preacher" in the Des Moines Conference, and the 1885 minutes record that he was "located at his own request." After that there is no further mention of him in the minutes, but he shows up in dozens of newspaper articles (as "Rev. J. W. Martin") published from 1884 through 1910.
Apparently, he served churches at Sioux City, Meriden, and Anita, Iowa, in the early 1880s, and the 1885 Iowa State Census finds him and Margaret living about 5 miles south of Anita in Lincoln Township, Cass County, Iowa. His household then included all four of his children plus Margaret's daughter Ann. Many of Margaret's Robison and Morrison relatives were also in Lincoln Township then, as was her daughter Mary and Mary's husband William Martin (Joseph's nephew). Then, the 1885 Nebraska State Census, collected 5 months later (June versus January), shows Joseph and Margaret in Seward, Nebraska, with his four children and none of hers. Around that time, Joseph undertook a new career as a traveling evangelist. Newspaper accounts show him conducting or helping with revivals and camp meetings from Kansas to Illinois and Wisconsin, and even as far east as Chambersburg, PA.
In January 1890, The Nebraska State Journal reported that he and Margaret were relocating to Tacoma, WA, but apparently his destination was a bit farther north, as various items in The Blaine Journal show Joseph conducting revival meetings in the area of Blaine, WA (smack up against the Canadian border). By 1891, however, he and Margaret had returned to Nebraska and had settled in University Place (which was then a separate town but now lies within the city of Lincoln). University Place is the locale of Nebraska Weslyan University, but university yearbooks and newsletters from the 1890s do not show him to have been either a student or a staff member there during those years. Instead, he continued his evangelical work, traveling mostly to parts of Kansas but also into Iowa, Wisconsin, and Illinois.
Joseph's work as an evangelist brought him rave notices from the press. In April 1889, The Dunn County News of Menomonie, WI, wrote, "An evangelist of note . . . he has the reputation of being a very eloquent and forcible speaker, able at all times to interest and instruct an audience." And according to a September 1892 review in The Western Methodist of Wichita, KS:
The sermon preached by Bro. Martin on Sunday morning, on the subject of perfect love, or entire sanctification, his favorite theme, was, to our mind, decidedly the best we have ever heard on the subject. It was one of the ablest, plainest, most logical, pointed and convincing sermons ever listened to, and must have been very helpful and satisfactory, not only to those who have heretofore fully entered into the higher christian experience, but to those who have been somewhat in the dark or skeptical on this subject. We have never heard a sermon on this line that seemed to touch a responsive chord so generally in the hearts of the hearers. Bro. Martin is blessed with a fine, clear voice, has a pleasant manner of delivery, and preaches so as to win favor with those who hear him and do much good. His coming here at this time . . . was very fortunate indeed.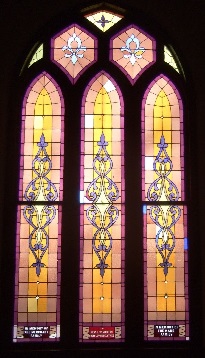 Stained glass window at First Methodist Church of Paonia dedicated to J. W. Martin.
(Click on image to see a
larger version.)
In 1895, Joseph gave up his itinerant evangelism for a time and returned to more conventional pastoral pursuits. He moved to Delta County, Colorado, where his brother John and his sisters Jane Humphry, Susanna Wilson, Lucinda Crook, and Mary Rhine had also moved. He persuaded the Colorado Conference to assign him to the "North Fork Circuit," consisting of two newly formed congregations in the valley of the North Fork of the Gunnison River — at Hotchkiss and Paonia, CO. Regarding Joseph's service there, I. H. Beardsley wrote:2 "God crowned his labors with success in the conversion of sinners and the sanctification of believers." If that's true, he must have worked fast. According to unpublished histories of the Hotchkiss and Paonia Methodist Churches, Joseph was assigned there in June 1895, but ill health compelled him to quit and "seek medical aid in another climate" in July 1896. His son C. J. Martin then took charge of the circuit until the Colorado Conference could appoint a new minister at the end of August 1896. So Joseph and Crary together served the circuit a total of about 14 months. Nevertheless, when the Paonia church completed its first stone building in 1900, one of its stained glass windows was dedicated to Joseph W. Martin.
Meanwhile, Joseph had left Colorado, returned to Nebraska, and resumed his evangelistic career. As early as October 1897, he and Margaret, and his son Crary, were holding revival meetings in Sioux City and Galt, Iowa. Margaret apparently accompanied Joseph on many of his trips, conducted parts of the services herself, and was also well received. As was written in The Hutchinson News (Hutchinson, KS), in January 1903:
Rev. J. W. Martin and wife of Lincoln, Neb., who are evangelists of national reputation, are engaged with the pastor in a meeting at Mitchell chapel with promise of great success. Rev. Martin is noted as a strong preacher and one of the best Bible teachers. Mrs. Martin is a good preacher and a fine altar worker.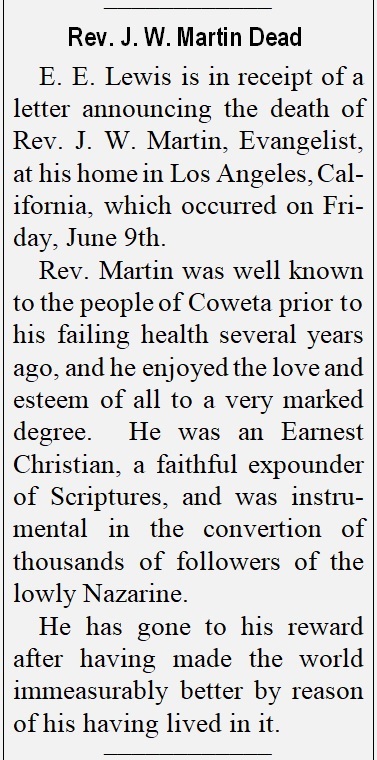 Joseph's obituary published in
the Coweta Times-Star,
29 June 1911, page 1.
In mid-1904, apparently, Joseph assumed pastoral duties at the Methodist Church in Coweta, OK. Items in the Coweta Courier and the Coweta Times-Star show that: Joseph was the pastor there in late 1904; in August 1905 he wrote to say that he was moving from Livingston, CA, to Blaine, WA; in May 1906, he was living in Bellingham, WA; in February 1907 he was back in Coweta and was "on the sick list"; in May 1907 he was the pastor at Sallisaw, OK; and in December 1908, he returned to preach one Sunday at the Coweta church.
In October 1909, an ad in the Los Angeles Herald referred to J. W. Martin as "the new pastor" of the Trinity Mission, at 33rd and Main Street in Los Angeles. The 1910 census confirms that Joseph and Margaret were in Los Angeles, living at 1830 New England Ave., about 2 miles from the mission, along with Margaret's son George Morrison and granddaughter Bernetta Morrison. In April of that year, they made a brief return visit to Coweta where, according to the Coweta Courier, Joseph owned "a fine farm near town."
Funeral notices in the Los Angeles newspapers show that Joseph died at his home on New England Ave. on 9 June 1911. When the word reached Coweta almost three weeks later, the Coweta Times-Star ran a brief obituary (shown at right). Margaret followed Joseph in death 7 years later, 15 July 1918. They are buried together at Forest Lawn Cemetery in Glendale, CA.
Joseph's first wife, Sarah Margaret Rhine, lived until January 1935 and is buried at Marshalltown, IA, under the name Margaret Hiller.
If you can suggest any corrections to the information above or provide any further details about the lives of Joseph, his wives, and their descendants, please contact me at the address shown in the image below:

Thanks,
—Pete Martin
Return to Isaac Martin bio page.
Return to John Martin Family home page.
Sarah Margaret is shown as "Maggie" in the 1880 and 1900 censuses and in various other documents, such as Joseph's bio in Andreas' History of Nebraska (where he is incorrectly identified as "J. M. Martin").
Isaac Haight Beardsley, 1898, Echoes from Peak and Plain; or, Tales of Life, War, Travel, and Colorado Methodism. Cincinnati: Curts & Jennings; New York, Eaton & Mains, p. 557.