Ambrose Martin, the second child of John and Sarah (Stanley) Martin, was born in Athens County, Ohio, on 16 Dec 1812. He died 18 Feb 1900 in Douglas County, Illinois, and is buried in Oak Ridge Cemetery, Camargo, Illinois.
On 18 Aug 1831 he married Phebe May Stewart in Clark County, Ohio. Her parentage is unknown, but it is likely she came from Clark County. Otherwise, it would be hard to explain why she and Ambrose were married there (as the Martins, so far as we know, never resided there). The 1820 and 1830 censuses of Clark County show several families of Stewarts in the county.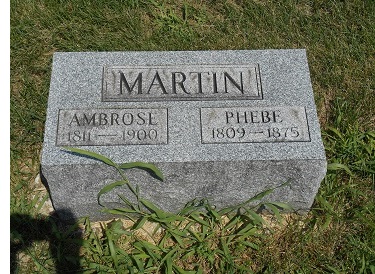 Ambrose and Phebe moved to Camargo, Illinois, along with Ambrose's parents and siblings, about 1836-37. They apparently resided there for the rest of their lives, although it is not certain that Phebe died there or is buried there. Her name and dates are inscribed, along with Ambrose's, on a marker at Oak Ridge Cemetery in Camargo, but in 1995 a separate headstone for Phebe was found lying about on private property in Camden County, Missouri. The Camargo tombstone gives only the years 1809-1875 for Phebe's dates of birth and death; the one in Missouri records that she "Died Sept. 6, 1875, Aged 66 years, eight months and 15 days." That translates to a birth date of December 22, 1808 — not 1809. Despite this slight discrepancy, there seems little doubt that the two tombstones refer to the same person, which leaves us to wonder whether:
Phebe actually died in Missouri (perhaps while visiting or just traveling through?), she was buried there, and her name was later engraved on Ambrose's stone back in Camargo, in her memory, but her body isn't really there; or
The individual headstone originally marked Phebe's grave in Illinois, was discarded or set aside when it was replaced by the newer double headstone after Ambrose died, and then it was somehow transported to Missouri for some unknown reason.
Ambrose clearly remained in Camargo until his death in 1900, as noted in the obituary written for him by J.T. Irwin. The obituary mentions five children born to Ambrose and Phebe Martin, who would be the following:
We know of two others who died in infancy, however, from the following inscriptions noted on tombstones at the Oak Ridge Cemetery in Camargo:
Infant son of A. & P. Martin, d. Jan. 10, 1849
Wm. Reed, son of A. & P. Martin, d. July 15, 1851, aged 1 yr, 3 mo., 12 d.