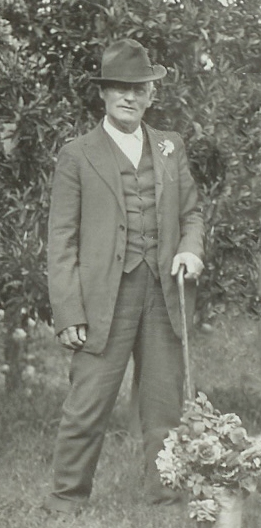 William Henry Martin. (Photo courtesy of Chris Martin.)
William ("Will") Henry Martin, the fourth child of Archelaus Stanley Martin and Harriett (Phipps) Martin, was born 18 January 1859 in Fremont County, Iowa. The 1860 Federal census shows his family in Ross Township of Fremont County (later called Green Township), and the 1880 census shows him still in his parents' household, in Sidney Township of Fremont County.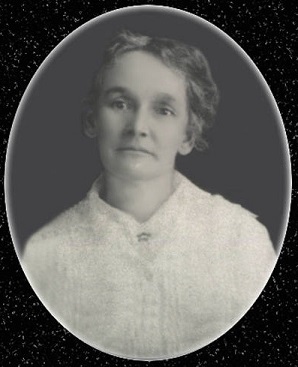 Dora (Hatch) Martin. (Photo courtesy of Chris Martin.)
Will married Dora Alice Hatch 23 September 1883 at Sibley, Osceola County, Iowa.1 She had been born 2 March 1867 at Tipton, Cedar County, Iowa, the daughter of Reuben and Sabra Permelia (Argo) Hatch. By 1880, her family had settled in Grant Township, Lyon County, Iowa. Inasmuch as Lyon County is 200 miles from Fremont County, it's hard to see how Will and Dora ever would have met but, as they say, "Love will find a way."
Will and Dora apparently moved many times over the years. Based on census records, on information from Will's obituary, and also on the places where their children were born, it seems that they were living in:
Scribner, Dodge County, Nebraska, in 1884;
Lancaster County, Nebraska, in 1885 and '86;
Sibley, Osceola County, Iowa, in 1888;
Blair, Washington County, Nebraska, in 1890;
Chandler, Lincoln County, Oklahoma, in 1892;
Sidney, Fremont County, Iowa, in 1894 and '96;
Paonia, Delta County, Colorado, from 1897 through 1906;
Cedaredge. Delta County, Colorado, from 1906 through 1914;
Paonia, Delta County, Colorado, from 1914 through 1917;
Whittier, Los Angeles County, California, from 1917 onward.
Census records from 1885, 1900, and 1910 show Will's occupation as "farmer." In 1920, in California, he is listed as a fruit picker (or perhaps a fruit packer?). In 1930, his occupation is shown as "none," but it's unclear whether, at age 71, he was comfortably retired or simply out of work, as so many were at that time.
On the Fourth of July, 1935, tragically, Will lost his life in a traffic accident in Whittier, California. Also, Dora and their daughter Harriet were injured in the same accident. The Whittier News printed an account of the accident and, a week later, Will's obituary. These are reproduced below.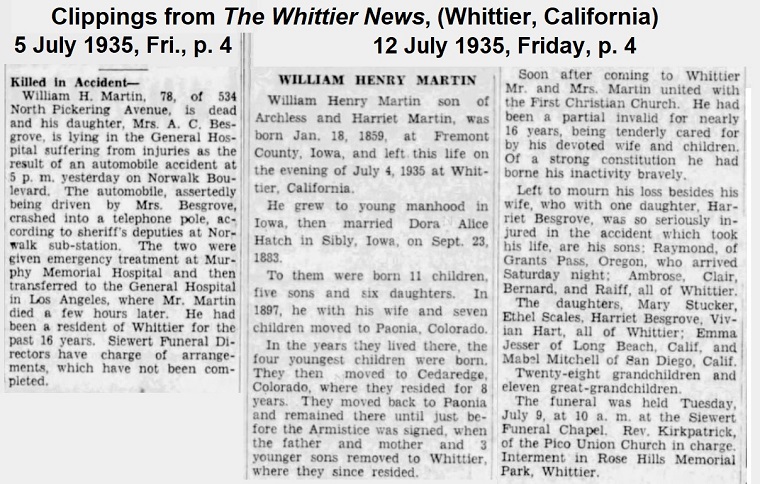 Will was buried at the Rose Hills Memorial Park in Whittier. Dora remained in Whittier until she died on 21 April 1951. She was buried alongside Will. Will and Dora were the parents of 11 children:
Raymond Curtis Martin, 1884–1948 (married Laura Louisa Ebersol).
Vivian Sabra Martin, 1886–1971 (married Ture Bernard Hart (or Hjert)).
Ethel May Martin, 1888–1952 (married Charlie Bassham Scales).
Mabel Grace Martin, 1890–1972 (married (1) Logan Wood and (2) Frank Mitchell).
Emma Viola Martin, 1892–1940 (married Leland Stanford Jesser).
Harriet Martin, 1894–1985 (married Allen Charles Besgrove).
Ambrose Reuben Martin, 1896–1960 (married Vera Gladys Blossom).
Mary Alice Martin, 1898–1976 (married Roy E. Stucker).
Clair Hatch Martin, 1902–1982 (married Velma Agnes Johnson).
Bernard Loyal Martin, 1904–1962 (married Francis Amson).
Raiff Sylvester Martin, 1906–1982 (married Margaret Louise Howe).
If you can suggest any corrections to the information above or provide any further details about the lives of Will, Dora, and their descendants, please contact me at the address shown in the image below:

Thanks,
—Pete Martin
Return to Archelaus Martin bio page.
Return to John Martin Family home page.
Many family researchers assert, without attribution, that Will and Dora were married at Canton, South Dakota. Will's obituary, shown above, states that they were married at "Sibly, Iowa." It should be noted that, although they are in different states, Sibley and Canton are no more than 45 miles apart, and both are adjacent to Lyon County, Iowa, where Dora's family lived. I have found no official record of their marriage in either of these places.