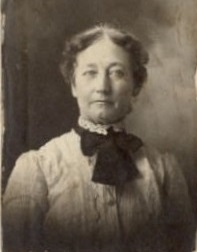 Mary (Martin) Laird. (Photo courtesy of Claudia Laird Glass.)
Mary Magdalene (Martin) Laird, the first-born child of Archelaus Stanley Martin and Harriett (Phipps) Martin, was born 14 April 1854 at Camargo, Illinois (which was then part of Coles County but has since been included in Douglas County). She should not be confused with her cousin Mary Elizabeth Martin, who was also born at Camargo in 1854. The chance for any such confusion was minimized after Mary M. Martin and her parents moved to Fremont County, Iowa, when Mary was about 1 year old. The Iowa State census of 1856 shows them in Scott Township of Fremont County, and the 1860 Federal census shows them in Ross Township, but still in Fremont County.
Mary grew to adulthood in Fremont County and married George Clarence Laird there on 17 February 1874. George was the son of Johnston Laird and Polly Isabel (Russell) Laird, and he had been born 7 May 1848 in west-central Illinois.1 He was also a younger brother of William Thomas Laird, who had married Mary's cousin Sarah Martin in Fremont County 19˝ years earlier. George's family moved to Fremont County when George was 5 years old, and he grew up there, but by the time of the 1870 census, when he was 22, he had moved by himself to a farm in Dodge County, Nebraska. So it's unclear how he came to court and marry Mary, back in Fremont County 4 years later. Perhaps they had been sweethearts before he ever moved to Nebraska, or he may have made frequent visits back to Fremont County (as his mother and some of his siblings still lived there) and he may have become fond of her during those visits.
Once they were married, George took Mary to his farm in Dodge County, and it was there that their first six children were born, though two of them died as infants, in 1875 and 1878. The 1880 census shows George and Mary living there with their son Clarence, their second-born child but the only one living at that time. George's younger brother Frank and his family were also in Dodge County at this time, in an adjacent precinct.
Newspaper accounts show that George represented Dodge County in the Nebraska Legislature from 1883 to 1885 and that he served as a county commissioner for a couple of years after that. Then in October 1887, a local newspaper reported: "George Laird . . . informed us that he and his brother Frank have both sold their farms in the northern part of the county . . . . They will remove their families about Nov. 15th to Audubon county, Kan., to live."2 It turns out that no such county exists in Kansas. From other newspaper accounts, though, we know that George and Mary settled at Jetmore, Hodgeman County, Kansas, after leaving Nebraska, and that George served as the County Treasurer there from 1894 to 1898.
About 1898, apparently, they moved a few miles south into Ford County, Kansas. The following spring George told a newspaper editor back in Hodgeman County that he was "well pleased with his new location," and that he had "a large number of bearing fruit trees and a fine field of alfalfa."3 The 1900 census shows George and Mary in Fairview Township of Ford County. Mary is listed there as the mother of nine children, of which — the census says — only two were living. This was an obvious error, inasmuch as the same census shows her five youngest children still in her home. Clearly, two had died and seven were living. George and Mary's nine children were the following:
Mary Laird, 1875–1875.
Clarence Stanley Laird, 1877–1965 (married (1) Alma Peterson, (2) Mrs. Adelaide G. (Chipman) Bristol, and (3) Mrs. Mae Marie (Auten) Adams).
Louella Laird, 1878–1878.
Eugene Laird, 1880–1946 (married (1) Mary M. Sylvester, (2) Irma Agatha Johnson, and (3) Mrs. Madelaine (Schehr) Criez).
Stella Harriet Laird, 1884–1952 (married William Newton Dunn).
George Ross Laird, 1887–1969 (married Flossie Gustava Hodges).
Olive Belle Laird, 1889–1939 (married Frank Vincent Hawley).
Elizabeth Laird, 1893–1912 (never married).
Sarah Laird, 1895–1976 (married Harry S. Jonas).
About 1905, George and Mary moved to Adair County, Missouri, although they apparently retained considerable land holdings in Kansas. The 1910 census shows them in Clay Township of Adair County with their two youngest daughters. Soon after this, their daughter Elizabeth was diagnosed with tuberculosis and, evidently, went out to Colorado to live with her sister Stella Dunn (as it was thought that the air of Colorado was healthier). Sadly, Elizabeth did not recover, but died at a TB clinic in Glenwood Springs, Colorado, in August 1912, at the age of 18. She was buried at Rose Hill Cemetery in Rifle, Colorado.
As of 1920, George and Mary had moved into the town of Kirksville but were still in Adair County, Missouri. The 1920 census shows their 16-year-old grandson Howard Dunn living with them, which is surprising, since the census also shows Howard at home with his parents William and Stella Dunn in Garfield County, Colorado.
Tragedy struck the family again in 1924 when George undertook a long auto trip from Missouri through Iowa and Nebraska, on out to Colorado and back through Kansas on his way home. His purpose, apparently, was to visit some of his children and other relatives, and to check on his land holdings in western Kansas. On 12 September 1924, George was killed instantly when his car collided with a train at a crossing a mile east of Delevan, Kansas. Accounts of his death appeared in newspapers in Council Grove, Kansas (close to the scene of the accident) and also in Dodge County, Nebraska, and Hodgeman County, Kansas, where George was still well remembered. One newspaper account reported that George then owned 12 whole sections (12 square miles) of land in western Kansas, valued at $300,000. His body was shipped west for burial at Rifle, Colorado, next to his daughter Elizabeth.
Mary lived on another 7 years in Kirksville, and passed away there 24 April 1931. Her body was also shipped to Colorado, for burial at Rose Hill Cemetery next to George and Elizabeth.
If you can suggest any corrections to the information above or provide any further details about the lives of George, Mary, and their descendants, please contact me at the address shown in the image below:

Thanks,
—Pete Martin
Return to Archelaus Martin bio page.
Return to John Martin Family home page.
Footnotes:
Several family researchers assert, without documentation, that George was born in Beardstown, Fulton County, Illinois. However, Beardstown is not (and never was) in Fulton County; it is in Cass County. The 1850 census, on the other hand, shows his family to have been residing in McDonough County 2 years after George's birth (although that census misstates his age). Therefore, the most we can say with confidence is that George was born in west-central Illinois, for Beardstown, Cass County, Fulton County, and McDonough County are all in that part of the state and all within about 20 miles of each other.
Fremont Tribune (Fremont, Nebraska), 18 October 1887, page 4.
Western Herald (Jetmore, Kansas), 4 May 1899, page 1.