Louisa Ida (Martin) (Smalley) Hunter, the third child of Archelaus Stanley Martin and Harriett (Phipps) Martin, was born 8 April 1857 in Fremont County, Iowa. The 1860 Federal census shows her family in Ross Township of Fremont County (later called Green Township). Louisa apparently was called by her middle name, "Ida," and is shown by that name in some census records and other official documents. Presumably she grew up in Fremont County, even though she does not show up in either the 1870 or 1880 censuses.1
On 18 December 1880, Ida married (1) Joseph Warren Smalley in Fremont County. He had been born 8 January 1856 in Ross County, Ohio, the son of John C. and Margaret M. (Murray) Smalley. The following year, his family moved to Iowa. They may have initially gone to Fremont County, as Joseph's sister Elisabeth died there in 1857. By the time of the 1860 census, however, they had settled in Taylor County, and Joseph apparently grew up there.2 As of 1880, though, he was back in Fremont County working as a "servant" in the household of Samuel Clark. It must have been during this time that he met Ida.
After marriage, Ida and Joseph apparently settled in Riverton Township of Fremont County, for their son Walter was born there in 1883. However, by the time their daughter Edna came along, in 1884, they had moved to the town of Creston, Union County, Iowa. All the rest of their children were born there, and their two youngest died in infancy there. Altogether, they had seven children:
Walter Raymond Smalley, 1883–1943 (married Gertrude G. Friedrich).
Edna Smalley, 1884–1950 (married (1) Thomas R. Walsh and (2) Stephen Alonzo Burke).
Bernice Nettie Smalley, 1887–1984 (married Karl William Boll).
Joseph Roy Smalley, 1889–1957 (married Hilda F. Ost).
Olive Smalley, 1894–1990 (married Glenn Leroy Rule).
The 1900 census shows Ida and Joseph still in Creston along with their five surviving children. Early in 1902, however, the family moved 45 miles west to the town of Red Oak in Montgomery County, Iowa. They are shown there by both the 1905 Iowa State census and the 1910 Federal Census. As of 1910, the only children remaining in the family home were Joseph Roy and Olive.
Joseph served over many years as a conductor for the Chicago, Burlington, and Quincy railroad line. Several items in the Red Oak newspapers describe him as such, and that also is shown as his occupation in the 1900, 1905, and 1910 censuses.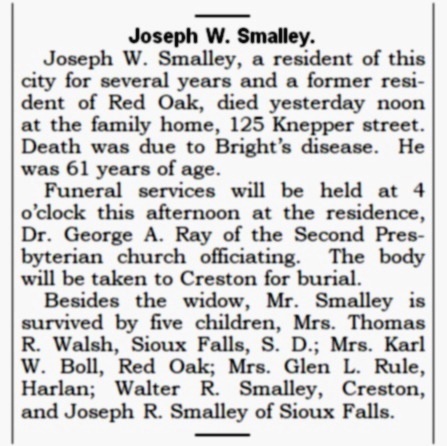 Joseph's obituary from the Evening Nonpareil
(Council Bluffs, Iowa), Sunday, 26 August
1917, p. 7.
About 1912, Ida and Joseph moved to Council Bluffs, Iowa. City directories show that Joseph ran a billiard parlor there for a few years. Unfortunately, Joseph died of nephritis in Council Bluffs, on 25 August 1917. The Council Bluffs Evening Nonpareil published a short obituary, which is shown at right, and he was buried at Graceland Cemetery in Creston, close to his two lost children.
After Joseph's death, Ida remained in Council Bluffs long enough to settle his affairs, then she returned to Red Oak early in 1918. Two years later, 24 January 1920, she married (2) William Bennett Hunter in Red Oak. He was a local carpenter/miller who had been born 28 February 1855 at Meadville, Crawford County, Pennsylvania, the son of William Tremble Hunter and Nancy Catherine (Lantz) Hunter. He had previously been married to Chessie Jane Atkins and had had two children with her. Chessie had passed away 14 December 1916 at Red Oak.
Ida's marriage to William lasted only 4½ years, as she died of cerebral apoplexy on 4 September 1924, in Red Oak. She was buried next to her first husband at Graceland Cemetery. Although her death certificate reads "Ida Louisa Hunter," the name shown on her tombstone is "Louisa Martin Smalley."
William Hunter lived on another 6 years and, upon his passing (8 October 1930) he was laid to rest at Evergreen Cemetery in Red Oak, next to his first wife, Chessie.
If you can suggest any corrections to the information above or provide any further details about the lives of Louisa Ida Martin, her husbands, and her descendants, please contact me at the address shown in the image below:

Thanks,
—Pete Martin
Return to Archelaus Martin bio page.
Return to John Martin Family home page.
Footnotes:
Ida's entire family is missing from the 1870 census. The 1880 census does show Ida's parents and younger siblings in Fremont County, but it does not show Ida herself either in her parents' home or in any other household.
Joseph has sometimes been confused with another Joseph W. Smalley (son of William J. and Hannah Jane Smalley), who was also born in Ohio in 1856, who moved to Page County, Iowa (right next to Taylor County), and who married Ella Wolfe there in 1879. These are two different men.