John Curtis Martin, commonly known as Curt, was the eighth child of Archelaus Stanley Martin and Harriett (Phipps) Martin. He was born 23 April 1866 1 in Fremont County, Iowa. Curt's family was overlooked by the 1870 census, but the 1880 census shows him in his parents' household, in Sidney Township of Fremont County. By the time of the Iowa State census of 1885, when Curt was 19, he was no longer in his parents' home, and I have not learned where he was.
Curt married Mrs. Ida Rebecca (Raph) Dalton on 4 December 1894 at Sidney, Fremont County, Iowa. She had been born 27 April 1863 at Lehigh, Northampton County, Pennsylvania, the daughter of Paul and Henrietta (Frey) Raph. Her family had come to Taylor County, Iowa, in the 1870s and later moved to Council Bluffs, Iowa. She had previously married John Hampton Dalton on 20 March 1884 at Council Bluffs. John was a switchman for the Chicago, Burlington, & Quincy Railroad, and he died 16 December 1893 during an accident in the switchyard at Pacific Junction, Mills County, Iowa. He was buried at Glenwood Cemetery in Mills County. Curt also worked as a CB&Q switchman and probably knew John Dalton. That may be how he became acquainted with Ida. A little less than a year after the accident, Curt and Ida were married.
The 1900 census shows them living in Council Bluffs along with 16-year-old Charles R. Dalton, Ida's son from her previous marriage. The fact that Charles's birth date is shown as June 1883 can seem puzzling, considering that that date is 9 months prior to his parents' marriage. The mystery is clarified, however, by a 1926 interview with Ida, which explained that Charles was a foundling, already about a year old when Ida and her first husband adopted him shortly after they were married.
That article also reveals that Ida was unable to bear children herself, and that Charles was just the first of eight children Ida brought into her home and cared for during her adult life. I have found only three of these children named in census records (Charles and two others mentioned below), so others may have been in her home for only a few years, between censuses.
An obituary posted on Charles Dalton's Find-a-Grave site specifies his exact date of birth as 15 June 1883. I don't know how one determines such an exact date of birth for a baby found on a doorstep. Perhaps there was a note attached? The obituary also says "One brother and one sister preceded him in death." This most likely refers to a couple of the other children Ada had cared for while Charles was growing up.
After 1900, Curt and Ida apparently moved back to Pacific Junction for a few years, as "J. C. Martin" and "Mrs. J. C. Martin" are mentioned several times in the Pacific Junction section of the Glenwood Opinion newspaper between 1903 and 1905. But then it seems that Curt's railroad work took them out west for a few years, for the paper carries a couple of reports that Mrs. J. C. Martin had come back to visit friends in Pacific Junction — from Colorado Springs, Colorado in 1906, and from Ogden, Utah, in 1909. The 1910 census confirms that Curt and Ida were living in Ogden. Curt's occupation is shown as a railroad brakeman. By 1920, they were back in Council Bluffs, where Curt was working as a railroad watchman. Neither of these censuses shows any children in their household.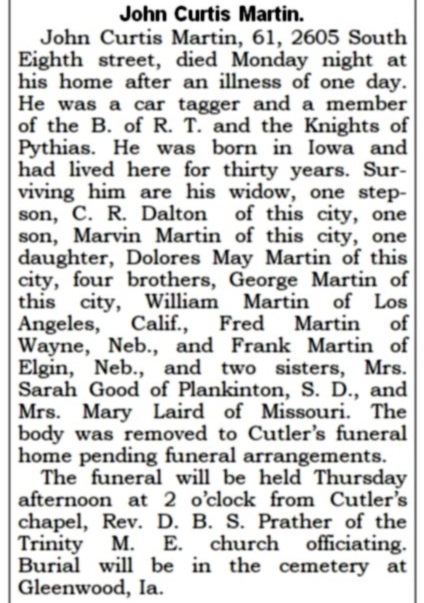 Curt's obituary from the Daily Nonpareil
(Council Bluffs, Iowa), Tuesday, 23 March
1926, p. 7. Note: B. of R. T. stands for
Brotherhood of Railway Trainmen, and
Curt was buried at Glenwood, Iowa,
not Gleenwood.
The Iowa State census of 1925 shows Curt (listed as "Kirt") and Ida still in Council Bluffs, but now their household includes two adopted children: Marvin L. Martin, 7, and Delores May Martin, 5. These two had originally been children of Melvin and Angeline Smith of Omaha, Nebraska. They were just two of the five children in that family, and I have not investigated what became of their three siblings. The Smith family had broken up after Melvin was arrested for check forging in June 1922 and subsequently attempted suicide while awaiting trial. I have not yet learned whether he was convicted and, if so, how long a prison term he might have served. I do know, though, that he and Angeline soon divorced, for she remarried (to Jesse Rainwater) in November 1924.
On 22 March 1926, Curt died of a heart attack in Council Bluffs, and the Daily Nonpareil printed an obituary for him, which is shown at left. Ida arranged to have him buried at Glenwood Cemetery in Mills County, the same place where her first husband, John Dalton, had been buried 32 years earlier.
It was just a week after Curt's death that Ida was interviewed by the Daily Nonpareil. She expressed her concern then that she would not be able to continue caring for Marvin and Delores, and that she needed to "find them a good home to assure their future." I don't know what options she tried, but the 1930 census shows Marvin and Delores Martin in the care of the Child Saving Institute in Omaha. What's strange is that Ida herself, at that time, was working as a matron at the Crèche Children's Home in Council Bluffs and also living there. I don't know why she couldn't have arranged to have Marvin and Delores at the same facility. Maybe it would have been considered a conflict of interest? Even though these children had been in Curt and Ida's home for only a few years, Delores continued to use the name Martin until she was married, and Marvin used it for the rest of his life.2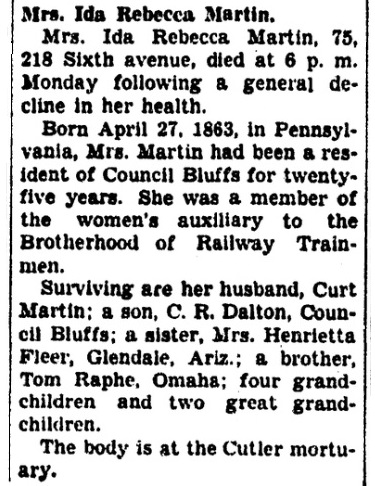 Ida's obituary from the Daily Nonpareil
(Council Bluffs, Iowa), Tuesday, 28 March
1939, p. 7. Clearly, the statement that
Ida was survived by her husband
is incorrect.
Ida remained in Council Bluffs until the last month of her life. In March 1939, she was diagnosed with a mental disorder ("senile psychosis") and sent to the state mental hospital at Clarinda, Iowa. There she died of a cerebral hemorrhage on 27 March 1939. The Daily Nonpareil printed an obituary, which is shown at right, and she was buried at Glenwood Cemetery alongside both of her husbands.
If you can suggest any corrections to the information above or provide any further details about the lives of Curt and Ida, please contact me at the address shown in the image below:

Thanks,
—Pete Martin
Return to Archelaus Martin bio page.
Return to John Martin Family home page.
Footnotes:
John's death certificate says he was born on 23 April 1864, the 1900 census shows a birth month of April 1867, but his tombstone says he was born in 1866. Assuming 23 April is the correct day of his birth, his ages as listed in various census records suggest birth years ranging from 1864 to 1867. His brother Archelaus Jr. was born 17 August 1864, so John could not have been born in April of either 1864 or 1865. An April birth in 1867 would mean that he was just 10 months older than his sister Hattie (born 23 January 1868), which is possible but not likely. April 1866 seems most likely, as that leaves 16 months between him and Archelaus, and 22 months between him and Hattie.
Delores married James P. Harper and died in Santa Barbara, CA, 12 July 1991. Marvin died on 3 November 1993 and is buried at Golden Gate National Cemetery, San Bruno, San Mateo County, CA.