George J. Martin, the thirteenth and youngest child of Archelaus Stanley Martin and Harriett (Phipps) Martin, was born 12 February 1877 in Sidney Township, Fremont County, Iowa, and he is shown there, in his parents' home, in both the 1880 Federal census and the 1885 Iowa state census. On 1 March 1899, he married Mabel C. Kuhns in Sidney Township, at the home of his brother Fred. Mabel had been born in Saline County, Nebraska, 2 April 1878, the daughter of James and Henrietta (Irwin) Kuhns. Her family had moved to Fremont County about 1895.
The 1900 census shows George and Mabel living in Sidney Township with their firstborn child, Archelaus. George's brother Frank and his family are listed immediately above them in the census. I suspect this means that their father, Archelaus Sr., had left his farm in their care when he went off to Colorado after their mother died, and they had set up their two separate households there.
The 1910 and 1920 censuses show George and Mabel still in Sidney Township, along with their first five children in 1910, and all seven children in 1920. Their children were:
Archelaus Stanley Martin, 1899–1978 (married Marjorie Avis Dyke).
Armour J. Martin, 1900–1976 (married Mrs. Gladys L. (Keasey) Wissler).
George J. Martin, Jr., 1902–1964 (married Pauline May Estes).
Walsa Clara Martin, 1905–1956 (married (1) Mike McAninch and (2) Lohman L. Ettinger).
Everett Wayne Martin, 1907–1965 (married Phyllis E. McGill).
Merwin S. Martin, 1911–1992 (married (1) Martha Augusta Christiansen and (2) Mrs. Jessie Myrtle (Weir) Coppick).
Mary Madeline Martin, 1912–1970 (married George Jacob Hermes).
By 1930, it seems, George had given up farming, moved into the town of Shenandoah, Iowa, and taken up a job as an insurance agent. Shenandoah is only about 15 miles east of Sidney Township, but it is in Page County (just barely across the line). In the census, George and Mabel still have six of their seven children living with them, as well as Archelaus's wife Marjorie and his daughter Betty. The six all have various jobs in town. The only child missing is Everett, who apparently has moved up to Storm Lake, Buena Vista County, Iowa, where he is working as a salesman at a Ford dealership.
The most recent available census, from 1940, shows George and Mabel living in Omaha, Nebraska, along with their daughter Walsa (who, having been briefly married and subsequently divorced in the mid-1930s, is once again back in her parents' household). Times were tough. George had been out of work for 46 weeks in the preceding year and was now employed as a stock clerk at a "W.P.A. Toolhouse."
George died in an Omaha hospital on 12 May 1942, after reportedly having had "a major operation." He was taken back to Fremont County and buried in the Martin plot at Mount Zion Cemetery. After his death, Mabel moved back to Shenandoah and lived there the rest of her life. However, she happened to be visiting her son George Jr. in Hamburg, Iowa, when she was stricken with a heart attack. She died there in Hamburg on 5 November 1960, and was laid to rest next to George. Obituaries for George and Mabel, from the Sidney Argus Herald and the Clarinda Herald Journal, are shown below.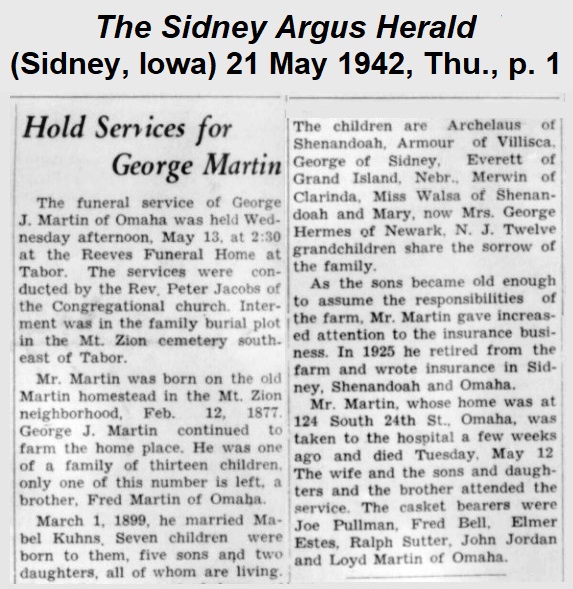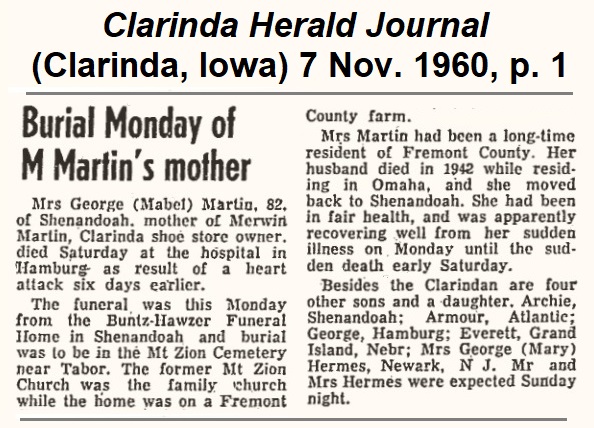 If you can suggest any corrections to the information above or provide any further details about the lives of George, Mabel, and their descendants, please contact me at the address shown in the image below:

Thanks,
—Pete Martin
Return to Archelaus Martin bio page.
Return to John Martin Family home page.