Archelaus Stanley Martin, Jr., the seventh child of Archelaus Stanley Martin and Harriett (Phipps) Martin, was born 17 August 1864 in Fremont County, Iowa. His family was overlooked by the 1870 census, but the 1880 census shows him (as "Archelius") in his parents' household, in Sidney Township of Fremont County. In the Iowa State census of 1885, he is listed by his middle name, "Stanley," and that seems to be how he was known throughout his adult life. In that census, 20-year-old Stanley was the oldest child still living in his parents' home. A few months later, he started his own family when he married Wilhelmina Margret Bugher in Fremont County on 25 November 1885.
Wilhelmina was born in November 1861 in Jackson County, Missouri, the daughter of Captain William J. Bugher and Josephine K. (Hickey) Bugher. She never knew her father, as he had died by drowning on 21 July 1861, while on maneuvers with the U.S. Volunteer Reserve Corps.1 In 1871, Wilhelmina's mother married Thomas Etling in Pottawatomie County, Iowa, and the newly formed Etling family then settled in Fremont County,2 where Wilhelmina met and, eventually, married Stanley.
After marriage, Stanley purchased a farm north of Sidney, where he and Wilhelmina lived for the next 13 years or so, during which all six of their children were born (and one died). These children were:
Archelaus Lester Martin, 1886–1954 (married Flossie Osborn).
Ruby J. Martin, 1890–1918 (married Willis Moore Trotter).
Harriett Vesta Martin, 1891–1962 (one brief marriage annulled;3 otherwise never married).
Olive Nellie Martin, 1895–1966 (married Robert Louis Morgan).
Frances M. Martin, 1896–1918 (married Paul Parker Sewell).
About 1898, the family moved to Cedar County, Nebraska, where they were recorded in the 1900 census (in which Stanley is shown as "Arch" and his daughter Harriett, inexplicably, is listed as a son). They remained there only 4 or 5 years, before moving to Allen County, Kansas.
In both Iowa and Nebraska, Stanley had made his living through farming. In Kansas, he also owned a farm south of Iola, but apparently spent most of his time in business pursuits. Iola newspapers mention him having owned and operated bakeries and/or grocery stores in Gas City, La Harpe, and Iola between about 1903 and 1907. In March 1907, he fell gravely ill with what was described as a "stroke of apoplexy." By late April, he was described as being much improved.
In January 1908, Stanley purchased a bakery in Garnett, Anderson County, Kansas, and moved his family there (except for son Lester, who remained in Iola). In July 1909, he undertook a business trip to Kansas City, where he abruptly fell dead, apparently having suffered another stroke. Shortly after arriving in the city on 21 July, he visited an arcade and was in the midst of having a palm reading when he suddenly collapsed. Several newspapers carried reports of his death and obituaries. His body was returned to Fremont County, Iowa, for burial. He was only 44.
After Stanley died, Wilhelmina sold the bakery and moved the family to Tulsa, Oklahoma, where son Lester had taken a job with the phone company. The 1910 census shows Wilhelmina there with a very full household: all four of her daughters, son Lester ("A. L. Martin"), Lester's wife Flossie, Lester's son Warick, and four lodgers named Patterson. (Wilhelmina apparently supplemented her income by renting rooms, as lodgers are mentioned in the 1910, '20, and '40 censuses.) Wilhelmina, her daughter Ruby, and her daughter Harriett ("Vesta") all took up teaching in Tulsa, and Olive worked in the Frisco Railroad offices.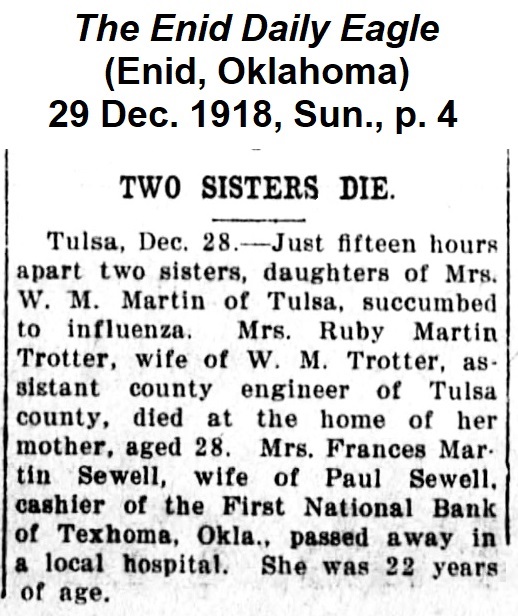 By 1918, Wilhelmina's daughters Ruby and Frances had both married and moved out, but then tragedy struck again. In the span of 15 hours, both of these daughters succumbed to the flu epidemic of that year. Ruby, age 28, died on 22 December 1918, and 22-year-old Frances followed in the early morning hours of 23 December. They were both buried at Rose Hill Memorial Park in Tulsa (here and here).
The 1920 census shows Wilhelmena living with her two remaining daughters plus Olive's husband Robert Morgan and one lodger. She evidently remained in Tulsa the rest of her life.4 As of 1940, she was still living with her daughter Harriett, and her household also included six lodgers. Wilhelmina passed away in 1955 and was buried at Rose Hill Memorial Park, near all four of her daughters. Her exact date of death is unknown, but her Find-a-Grave site provides the information that she was buried on 8 September 1955.
If you can suggest any corrections to the information above or provide any further details about the lives of Stanley, Wilhelmina, and their descendants, please contact me at the address shown in the image below:

Thanks,
—Pete Martin
Return to Archelaus Martin bio page.
Return to John Martin Family home page.
Footnotes:
According to The Fort Scott [Kansas] Bulletin of Saturday, 27 July 1861, p. 2, "Capt. Bugher, of the U. S. Reserve Corps stationed at Kansas City, was drowned in Indian Creek last Sunday. He was a brave and devoted Union man, and his death is a severe loss to the cause."
(Note: the U.S. Geological Survey lists 14 watercourses named "Indian Creek" in Kansas. The one closest to Fort Scott, which is probably the one referenced here, flows into the Little Osage River about 4 miles east of Fulton, Kansas.)
On 25 June 1868, the U.S. Congress granted a pension to Josephine K. Bugher, widow of Captain William J. Bugher, effective retroactively to 1 August 1861. (See record.)
Josephine K. Etling owned 80 acres of land in Jefferson Township, Buchanan County, Iowa, in the 1870s and '80s, but I have found no evidence that she ever lived there.
Tulsa County records confirm that Vesta Martin married Mr. Lisle H. Haverfield on 26 August 1918. According to The Tulsa Democrat of 27 August 1918, page 6, the marriage was solemnized in a small home ceremony just one day before Lisle was to leave to report for military service. The 1920 census, however, shows both Lisle Haverfield and Vesta Martin back in their parental homes, both with a marital status of "Single" (not "Divorced"). The circumstances lead me to suspect that Lisle and Vesta may have been able to swear that the marriage was never consummated during their one day together and thus to obtain an annulment. Lisle subsequently married Byrd E. Hogan on 2 July 1921. Vesta never again married.
I haven't found Wilhelmina in Tulsa in the 1930 census, but neither have I found her anywhere else that year. A listing in a Tulsa newspaper included her among residents who were assessed for street repairs in 1926, and the 1940 census confirms that she had lived in the "same place" (Tulsa) in 1935.