Elizabeth A. Jones, the third child of William A. Jones and Sarah (or Sally) (Martin) Jones, was born 30 August 1856 in Fremont County, Iowa. Then, when Elizabeth was less than 2 years old, her father reportedly hanged himself. (See the Sally Martin bio page for further details.)
The 1860 Federal census shows 3-year-old Elizabeth in Fremont County with her mother and two older brothers but without her father, William. The Fremont County marriage records, show that Elizabethís mother had married Thomas Pierce on 5 September 1859, and the census lists an unnamed infant in the household, who is shown in later records to be Elizabethís half-brother Charles Pierce. Nevertheless, her motherís name is still shown as Sarah Jones in this census and in subsequent censuses.
The 1870 census shows Elizabeth still in her motherís household in Fremont County, Iowa. Her age is shown as 14, though it should have been 13 (since her birthday fell after the official census date of June 1). Soon afterwards, the family moved to Macon County, Illinois, where Elizabethís parents had lived before moving to Iowa and where both of her older brothers had been born. There in Macon County, at age 18, Elizabeth married William H. Kuns on 27 May 1875. He had been born about 1857 in or near Oakley, Macon County, Illinois,* and he was the son of Daniel and Maria (Leslie) Kuns.
After only 3 years of marriage, Elizabeth passed away in Macon County on 13 June 1878. I have found no cause of death reported for her, and I know of no children she might have borne. She is buried at the West Frantz Cemetery in Oakley.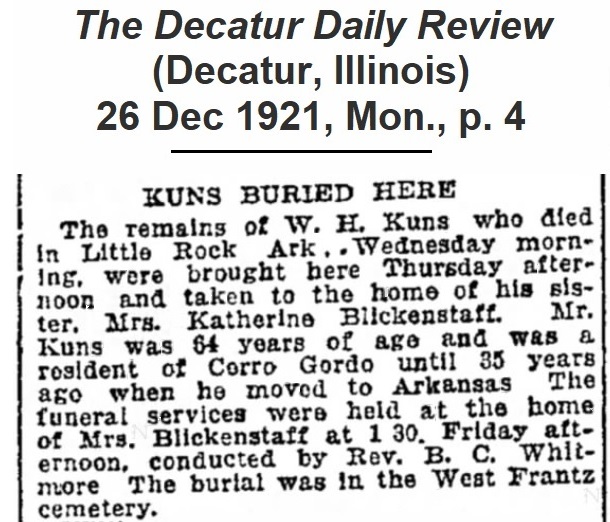 I have very little information about Williamís life following Elizabethís death. Iíve been unable to find him in the 1880, 1900, 1910, or 1920 censuses, and I donít know if he ever remarried or if he had any children either with Elizabeth or with a subsequent wife. All that is known for sure is that he died on 20 December 1921 in Little Rock, Arkansas. The Decatur Daily Review printed a brief obituary for him (shown at right), which stated that he had lived in Cerro Gordo, Illinois, until he moved to Arkansas ď35 years agoĒ (=1886), and that his body was returned to Macon County for burial at the West Frantz Cemetery (where Elizabeth is also buried). As of 2020, his gravesite has not been documented in any on-line posting.

If you can suggest any corrections to the information above or provide any further details about the lives of Elizabeth, William, and their descendants (if any), please contact me at the address shown in the image below:

Thanks,
óPete Martin
Return to the Sally Martin bio page.
Return to John Martin Family home page.