Charles William Pierce was born in April 1860 in Fremont County, Iowa. He was the firstborn child of his father Thomas Pierce and the fourth child of his mother Sarah (Martin) Jones. His parents were married in Fremont County on 5 September 1859 (only 7 months before Charles was born) and they soon separated, for his father married another wife (Angeline Green) in Holt County, Missouri, 26 February 1860 (still more than a month prior to Charles's birth).1 I have seen no evidence that his mother ever used the name Pierce. The 1860, 1870, and 1880 censuses show her continuing to call herself Sarah Jones (retaining the name of her first husband William A. Jones).
The 1860 census shows Charles as an unnamed male infant, 2 months old at the time of the census, in the household of Sarah Jones in Sidney Township, Fremont County, Iowa. A decade later, the 1870 census shows 10-year-old Charles still in the Jones family and still in Fremont County (in Ross Township rather than Sidney), but the name "Pierce" is not used there — just a dash in front of the first name, implying that Charles's surname is Jones.
The first census to show Charles as Charles Pierce is from 1880, at which time he was living with his half-brother Samuel Jones in Decatur, Macon County, Illinois, and the census clearly identifies him as a "1/2 brother." Charles's occupation is shown there as "works on farm," and subsequent censuses show him as a day laborer (in 1900), a laborer at odd jobs (in 1910), and an oil field machinist (in 1920). He apparently never owned a home of his own; the censuses show him in rented homes in 1900 and 1910 and living with relatives in 1880 and 1920.
Charles married Josephine McCollom in Macon County, on 4 December 1880. She had been born in Macon County in January 1862, the daughter of Amos and Margaret (Crowell) McCollom.
The next available census, from 1900, shows Charles and Josephine living in Lexington Township of Lafayette County, Missouri. The census reports that Josephine by then had become the mother of ten children, eight of whom were then living. The census shows six of these children in Charles and Josephine's household, and the listing immediately preceding theirs shows their daughter Eva already living with her husband Sam Blackburn. Hence, at this time, Charles and Josephine must have had one more living child who had already grown up and moved out, but I have been unable to find any information about that child. The census also shows that five of their children were born in Arkansas, during the years from 1886 through 1894. From Social Security records, we know that their son Thomas was born in Bentonville, Benton County, Arkansas, so that probably is where Charles and Josephine had lived during those years.
By 1905 the family had moved to Cushing, Payne County, Oklahoma. Their daughter Nellie was married there in October 1905, and both Charles and Josephine signed the certificate to grant permission for the marriage, since Nellie, at 17, was underage. The 1910 census inexplicably identifies Charles as George W. Pierce, but his age, place of birth, and the names and ages of other family members seem correct. That record shows the family living in Muskogee, Oklahoma.
By 1920, according to that year's census, Charles was a widower and was back in Cushing living with his daughter Eva and her husband, Sam Blackburn. So clearly, Josephine had died sometime between 1910 and 1920, but I have found no credible record of her death or burial. Several family researchers (probably all copying each other) report that she died 6 September 1912 in Holbrook, Oklahoma, but they provide no documentation for this event. Also, I have been unable to identify any county, town, township, or neighborhood in Oklahoma called "Holbrook."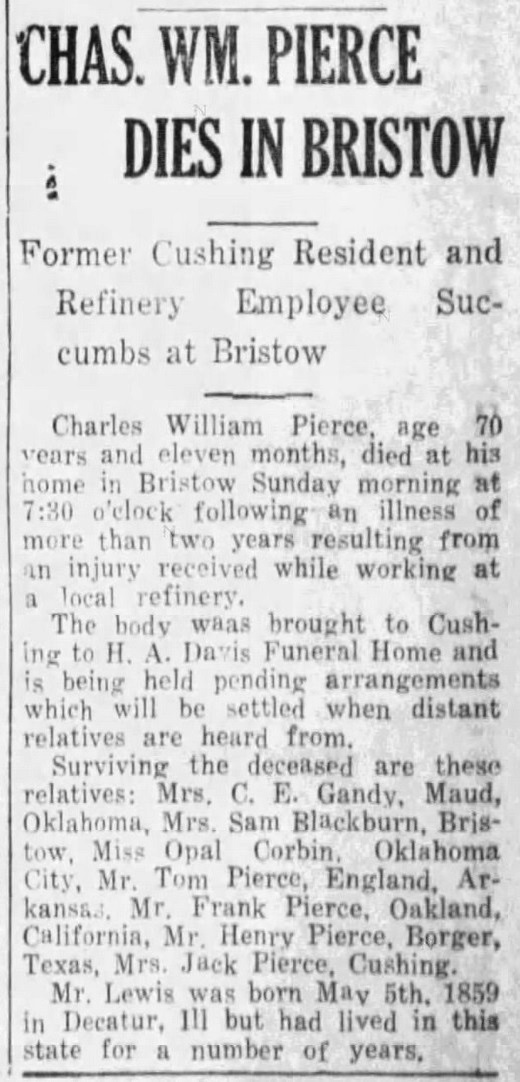 Obituary from The Cushing Daily Citizen (Cushing, OK), 24 March 1930, Monday, page 1. (Note, information in the final paragraph is incorrect.3)
We have records and/or reports of nine children born to Charles and Josephine:
Ida Pierce, 1882–???? (before 1900).2
Eva Bell Pierce, 1883–1930 (married Samuel B. Blackburn).
Richard Pierce, 1886–1962 (married (1) Ada Ellen Hill and (2) Clara B. Bodenhamer).
Nellie Pierce, 1888–1914 (married Harris Hill).
Thomas Pierce, 1890–1946 (married (1) Nora Howe and (2) Jennie ____).
Henry Pierce, 1893–1960 (married Pearl Clairburn).
Bessie Pierce, 1894–1935 (married Claud E. Gandy).
Franklin Charles Pierce, 1898–1959 (married Nancy Emma New).
Fannie Pierce, 1902–???? (after 1930) (married Joseph M. Corbin).
Charles passed away 23 March 1930 at Bristow, Creek County, Oklahoma, and his body was returned to Cushing for burial in Fairlawn Cemetery. A brief obituary from The Cushing Daily Citizen is shown at right. Note, though, that the information given there in the final paragraph is incorrect.3
If you can suggest any corrections to the information above or provide any further details about the lives of Charles, Josephine, and their descendants, please contact me at the address shown in the image below:

Thanks,
—Pete Martin
Return to the Sally Martin bio page.
Return to John Martin Family home page.
See the Sally Martin bio page for further information about Thomas Pierce.
Ida is named in several family trees posted on Ancestry, but none of them provide documentation. I have found no independent record of her.
The "Mr. Lewis" mentioned in Charles's obit is probably an accidental reference to Frank E. Lewis, whose obituary appears elsewhere on the same newspaper page. However, the information about place and date of birth was apparently thought to be right for Charles. (Mr. Lewis had been born in Kansas in 1879.) Although Charles had previously lived in Decatur, Illinois, census data makes clear that he had been born in Iowa in April 1860.