Louisa Martin is a mystery. The only evidence we have that such a person existed is that she is named among the children of John and Sarah Martin in Elza Martin's letter. Elza wrote: "His [Isaac Martin's] brothers were Ambrose, Joseph, John, and Archelaus. His sisters were Louisa, Betsy, Lucinda, and Sally." We know enough about the other siblings in this family to confirm that Elza named the boys from oldest to youngest and the other three girls from oldest to youngest. Therefore, we assume that Louisa was the oldest sister. If so, when was she born? Can we find her in a census record? Following are excerpts from the 1820, 1830, and 1840 census records for John Martin and his family.

The 1820 census of Alexander Township, Athens County, Ohio, shows that John and Sarah have three boys under 10 (presumably Ambrose, Joseph, and John, Jr.), and it appears that the census taker went back and forth between two columns a couple of times before finally deciding to put Isaac's mark in the 10-16 column. However, John and Sarah have no girl children at this time, so apparently Louisa has not yet been born.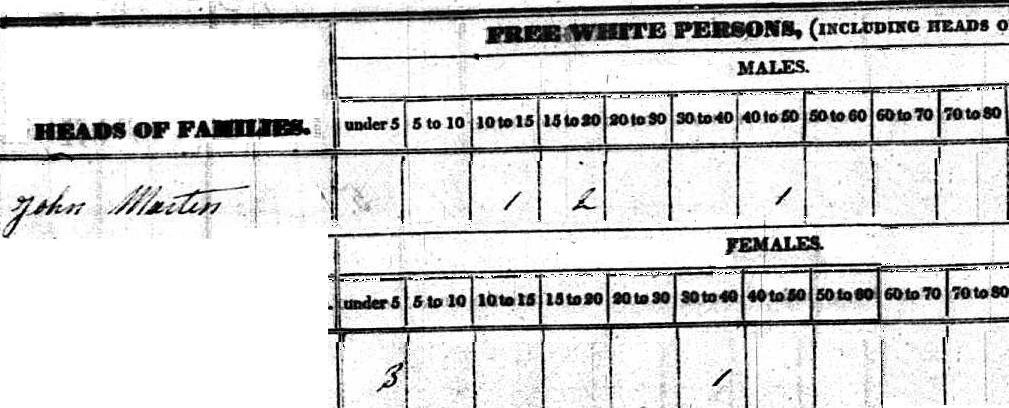 In the 1830 census of Alexander Township, Athens County, Ohio, three of the four boys are still in the household, and John and Sarah now have three girls, all under 5. So, one might suppose that these girls are Louisa, Betsy, and Lucinda, and that the youngest girl, Sally, has not been born yet. But consider the next census, 10 years later —

By 1840, the family has moved to Coles County, Illinois; Isaac, Ambrose, and John, Jr. have their own households; Joseph, unfortunately, has died; Archelaus has been born (male, age 5–10); and John and Sarah now have three girls aged 10–15. So, are these three girls also Louisa, Betsy, and Lucinda? If so, where is Sally? On the other hand, maybe these are Betsy, Lucinda, and Sally, in which case, what has become of Louisa?
Many Martin family researchers will tell you Louisa is no longer in the household by this time, because she has married and moved out. In fact, a search of Illinois marriage records does show that Louisa Martin married John Janes in Coles County on 16 November 1837. It seems likely, though, that this Louisa was not John and Sarah's daughter, as shown by the following evidence:
John Janes and his wife Louisa are listed in the 1850 census of Coles County, Illinois, in Lower Okaw Township: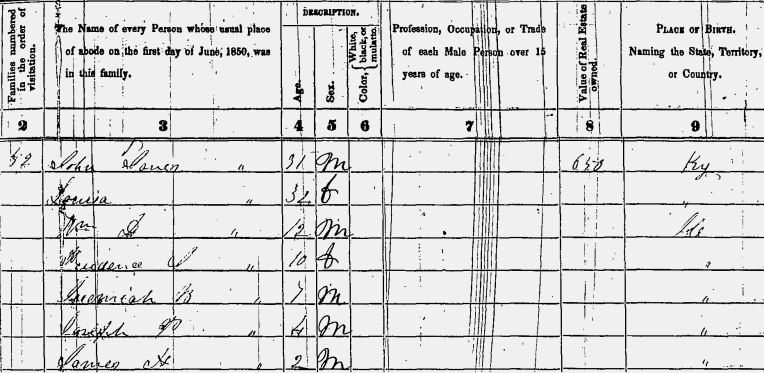 This listing shows that Louisa was 32 years old at that time and was born in Kentucky. The state designation, however, could be questioned because it is not specifically written on Louisa's line but rather shows up as quotation marks written so far down that they actually overlap the line at the bottom of the designated space. But even if we disregard the apparent state designation, we would still have to explain how a girl apparently born about 1818 does not show up in John's household in 1820 and does not show up as a 10- to 15-year-old in the 1830 listing.
Furthermore, it should be noted that Lower Okaw Township, where the Janeses lived, is more than 30 miles from the Camargo area, where our Martins had settled. That's not far by today's standards, but it would be a 10-hour walk or about 4 hours by horseback. Under the circumstances, it is far more likely that John Janes would have married a girl from his immediate neighborhood than someone from the far end of the county. Thus it is worth noting that a family of James F. Martin, from Kentucky, is listed in Lower Okaw Township, on the same census page with John and Louisa Janes. This man is too young (42) to be Louisa's father, but he could easily be a brother. In fact, it is likely that he and Louisa are both the offspring of an older man, also named James Martin, who had been listed in the county in the 1840 census, and who is further described here.
So what of John and Sarah Martin's daughter Louisa? Did she actually exist? It seems unlikely that Elza would have made up a fictitious aunt. Moreover, it should be noted that John and Sarah's sons Ambrose, Joseph, and Archelaus all adopted the name Louisa for one of their own daughters. It would not be surprising to find that they were commemorating a beloved sister.

It could be that Louisa died very young, as was so often the case in earlier centuries. It is possible she was born early in the 1820s (during what otherwise would have been a 9-year gap between John Jr. and Betsy) and died before the decade was out. She could have lived out her entire life between censuses.
This is all speculation, though. As stated above, Louisa Martin remains a mystery. If anyone can shed any additional light on this mystery, please contact me at the address shown in the image below.