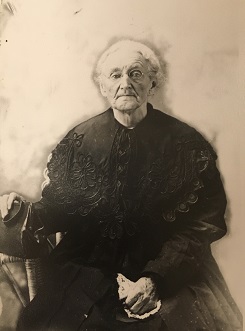 Sarah Susanna Martin Van Voorhis. (Photo from collection of the late William Cliff Martin.)
Sarah Susanna (Martin) Van Voorhis, the first-born child of John Martin, Jr., and Mary Ann (Wheeler) Martin, was born 11 May 1838 in Camargo Township, Illinois (which was then part of Coles County but was included in Douglas County in 1859). She apparently was known by her middle name, Susanna, for most of her life. According to a 1910 biographical volume,1 Susanna was born "on a bunch of hay in the corner of a log cabin, her parents not owning a bed. In those days they had no Christmas presents, aside from the treat given them by their mother, who used to fry doughnuts, which were more appreciated by these little pioneer children than the more costly gifts given children of the present day. She had no shoes until she was eight years old and then they were given to her by her grandfather [John Martin, Sr.]. The cooking was all done in the fireplace and until her marriage, [Susanna] never used a cook stove."
Susanna married (1) George Washington Barnett2 on 20 September 1855 at Camargo. He was born 26 July 1835 at Camargo, the son of William R. and Mary "Polly" (Yarnell) Barnett. The marriage only lasted 10 years, as George passed away on 30 December 1865. He is buried at the Oak Ridge Cemetery in Camargo. Susanna and George were the parents of two children:
John Will Barnett, 1855–1928 (married Della Jones).
Nancy E. Barnett, 1859–1861.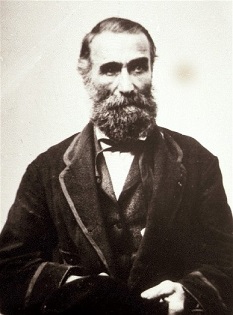 Abraham Frye Van Voorhis. (Photo from Deanna Van Voorhis Wolff.)

Susanna married (2) Abraham Frye Van Voorhis on 21 May 1871 at the Van Voorhis home in Bowdre Township, Douglas County, Illinois. He had been born 1 February 1812 in Washington County, PA, a son of Daniel and Mary (Frye) Van Voorhis. Abraham had been married previously to Mary Carson, and had had 12 children with her, only three of whom were still alive in 1871 (seven had died in infancy). Mary had died on 2 Apr. 1867.
Susanna's son Franklin was born on 22 Sept. 1873. About a year later (2 Sept. 1874), Abraham's eldest daughter Elizabeth (Mrs. John S. Williams), hanged herself, leaving behind a 2-year-old son. Abraham and Susanna took in the child, Charles Williams, and raised him along with Franklin, like a brother.
Abraham passed away 14 Jun 1886, and was buried in the Van Voorhis Cemetery next to his first wife. Susanna lived on until 11 August 1912. She also was buried at the Van Voorhis Cemetery under a separate headstone. Abraham and Susanna had one child together:
• Franklin Van Voorhis, 1873–1960 (married Sarah Alice Taylor)
If you can suggest any corrections to the information above or provide any further details about the lives of Susanna, her husbands, and her descendants, please contact me at the address shown in the image below:

Thanks,
—Pete Martin
Return to John Martin, Jr. bio page.
Return to John Martin Family home page.
Footnote:
King, John W. (ed.). 1910. Illinois (historical) Douglas County (biographical), from the series Historical Encyclopedia of Illinois, edited by Newton Bateman and Paul Selby. Chicago: Munsell Pub. Co., p. 820.
Although Susanna and three of her sisters all married men named Barnett, it's interesting to note that none of these men were brothers; all had different parents. It's likely they were all cousins, though, descended from various sons of George and Delilah (Davis) Barnett. Moreover, three of them (those who married Susanna, Nancy, and Mary) may have been double cousins, as they all had mothers who had had the maiden name of Yarnell.