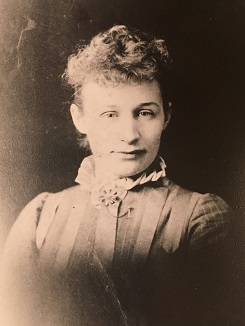 Sophia Martin Hawkins. (Photo from collection of the late William Cliff Martin.)
Sophia (Martin) Hawkins, the 18th child of John Martin, Jr., and the sixth born to John's second wife, Lavina (Plowman) Martin, was born 19 October 1873 at Camargo, Douglas County, Illinois. Her mother died when she was 4. Her father remarried a year later, and her stepmother died when Sophia was 9.
Sophia married William ("Willie") Lincoln Hawkins1 in Douglas County on 28 February 1892. He had been born 28 August 1866 in Noblesville, Hamilton County, IN, the son of Joseph Compton and Phebe Rebecca (Moon) Hawkins. After marrying, Sophia and Willie settled down at Ridge Farm, Vermilion County, Illinois (Willie's family home), where they became the parents of two children, one of whom died in infancy:

Ethel Fay Hawkins, 1893–1967 (married (1) Robert Woody Snyder and (2) John Franklin Rohour).
Infant son Hawkins, 1895–1895.
Sophia passed away on 9 June 1896, at the young age of 22, and she is buried at the Pilot Grove Cemetery. Willie lived on for another 51 years, and I have seen no evidence that he ever remarried.
The 1900 census shows Willie and his daughter Ethel living in his father's household in Elwood Township of Vermilion County. In 1910 he was living by himself in Jamaica Township, but as of 1920 he was in Catlin Township, and his daughter (by then a widow, shown in the census as "Fay Snyder") and her two children were living with him. Also in his household at that time was a boarder, Frank Rohour, who became Ethel Fay's second husband a short time later. I have not found Willie in the 1930 or 1940 censuses. However, he died in Danville on 6 December 1947 and is buried next to Sophia at Pilot Grove Cemetery. His death certificate identifies his occupation as "Rail Roader," so perhaps he spent much of his later years traveling from place to place, which could explain why those last two censuses missed him.
If you can suggest any corrections to the information above or provide any further details about the lives of Sophia, Willie, and their descendants, please contact me at the address shown in the image below:

Thanks,
—Pete Martin
Return to John Martin, Jr. bio page.
Return to John Martin Family home page.
Mr. Hawkins' first name is shown as "William" in all available census records (1870 through 1920). However, when he registered for Social Security in 1937, he listed his name as "Willie Lincoln Hawkins." According to Find-a-Grave, he is buried under the name "Willis Lincoln Hawkins," but we can't confirm that his name is actually shown that way on his tombstone, as the site so far does not include any photo. The Illinois Deaths and Stillbirths Index, 1916–1947, for what it's worth, identifies him as "Willie Or Willam Or Lincoln Hawkins."