Obituaries of James Harvey Wilson and Susanna (Martin) Wilson
The Fremont County [Iowa] Herald, 2 Aug 1900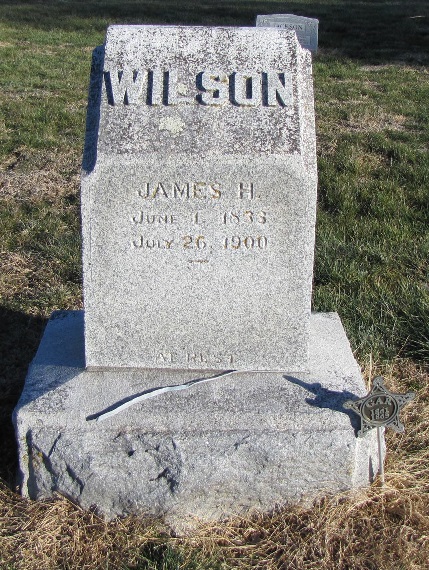 James H. Wilson's headstone,
Sidney Cemetery, Sidney, IA.
James Harvey Wilson was born in Athens County, Ohio, June 1, 1833 and died July 27, 1900, aged 67 years, 1 month, 26 days. In 1853 he removed with his parents to Iowa, locating about four miles north of Sidney. In 1860, he was married to Susanna Martin. Nine children came to gladden the home, all of which, with the exception of one who died in infancy, still live. About thirty years ago Mr. Wilson moved to the farm one and one half miles east of Nishna, near Farragut, which was his abode until death removed him to the home above. At the age of 15 he was converted and joined the M. E. church, of which he was a consistent, exemplary member until death. He loved the church, and its services, because he loved his Master and Lord. Ever ready to do anything he could, every pastor soon learned to depend upon him. He had been an invalid for a number of years, yet in the midst of much pain he was a most patient sufferer. A faithful husband, a kind father, a loving brother and a true friend, his loved ones will cherish the most tender memories until the "Roll is called up yonder" and all are there. A brother, Joseph W. Wilson, lives in Sidney; a sister, Susanna Morris, lives at Lakeport, Cal. The funeral services were held in the Nishna M. E. church, conducted by the pastor, Rev. W. N. Graves, who spoke from the text 2 Tim. 4:6. The remains were interred in the Sidney cemetery to await the final summons. The family of the departed are assured of the sympathy of the entire community, yet they do not mourn as they who have no hope, but as they who are sad because for a brief season they must be separated from a loved one, and rejoice in the hope of a re-union which will never be broken.
The Paonian Newspaper [Paonia, Colorado], 25 Feb 1932
Funeral services for Susannah Wilson, who died at her home here Saturday night at the age of 88 years, are to be held at 10:00 tomorrow morning, Friday, at the Pentecostal Mission. The Rev. Fred Martin is to be in charge and burial is to be made in the Cedar Hill Cemetery.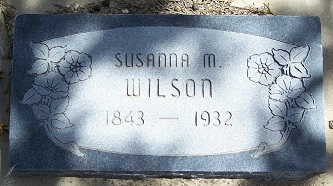 Susanna Martin Wilson's headstone,
Cedar Hill Cemetery, Paonia, CO
Mrs. Wilsonís youngest son, J.L. Wilson of Placerville, came to Paonia upon receiving word of his motherís death. Because highways and railroads in southwestern Colorado are blocked by snow it was believed that two other sons, E. J. Wilson of Cortez and C. W. Wilson of Rico, would be unable to be here for services. A daughter, Mrs. Mary Simpson, lives in Beloit, Kansas. Mrs. Lucinda Crook of Denver is a sister. Mrs. Dean Jones of Paonia, Mrs. Anna Olvey of Willows, California, and Mrs. Edith Old of Yakima, Washington, are granddaughters.
Mrs. Wilson, who had been a resident of Paonia for thirty-two years, had been in fragile health for a long time and had been bed fast for most of the winter.
Susannah Wilson was born at Forest City, Missouri, August 19, 1843, and she grew to young womanhood in Missouri. When her parents moved to Fremont County, Iowa, she accompanied them, and there she met and married James Wilson on September 10, 1859. Nine children were born to them, five sons and four daughters of whom four survive.
Mr. Wilson died June 6, 1898 [sic (should be 26 Jul 1900)] at Sidney, Iowa and two years later Mrs. Wilson and her two youngest sons moved to Paonia, her place of residence ever since that time. Mrs. Wilson had been a member of the Methodist Church since childhood, but in recent years was interested in the work of the Pentecostal Assembly.
Return to Susanna Martin bio page.