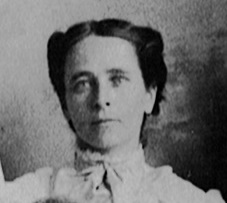 Mary Florence (Martin) Walker
Mary Florence (Martin) Walker, known as Flora, was the fourth child of John I. and Rachel (Reeves) Martin. She was born 16 October 1867 at Sidney, Fremont County, Iowa. Her family moved to Richardson County, Nebraska, when she was 2 years old; then back to Sidney, Iowa, when she was 5; and once more to Richardson County, Nebraska, when she was 11. Census records show her in her parents' home in 1870 and 1880 (as Mary F.), and in 1885 (as Florence).
Flora married James A. Walker on Christmas Day, 1888, at her parents' home in Richardson County, Nebraska. He had been born in June 1868 in Minnesota,1 the son of Albert Washington Walker, Jr., and Amelia Maria (Ackerman) Walker. His family had moved to northwestern Missouri while he was still an infant, and then to Richardson County when he was in his teens.
Sometime after their marriage, Flora and James moved to Paonia, Delta County, Colorado, probably about 1891, when Flora's parents and most of her siblings made the same move. The 1900 census shows them there, along with an adopted daughter, Marie, reportedly born in May 1893 (but see further discussion below). James's occupation is shown as farm laborer, but that may not tell the whole story. The Delta Independent of 6 June 1902 (page 1) included an item that described five mining claims James held "25 miles east of Hotchkiss" (which would be Gunnison County). It said the assays for those claims were "a little upwards of $400 of gold per ton." Thus, we know that James dabbled in gold mining, at least for a while.
James was also much involved in the fruit-growing business. In 1904, he joined with a couple of his Paonia neighbors to incorporate The Fruit-Growers Manufacturing company,2 in 1906, the Delta County Commissioners appointed him as the county's Assistant Horticultural Inspector,3 and that same year he was working as an agent of the Utah Nursery Company.4
By 1909, however, Flora and James had packed up and moved again, this time to the area of Howe, Idaho (which was part of Fremont County at that time but was included in Jefferson County in 1913, and then in Butte County in 1917). The 1910 census shows them in Howe, and it lists James's occupation as farmer. It also shows that they have a 13-year-old daughter, Ellen M. Walker, which is a cause of some confusion. Is Ellen, age 13 in 1910, the same as their adopted daughter Marie, who had been shown as being 7 in 1900? If so, what is her actual year of birth — 1893 or 1897? If not, what has become of Marie, and where did Ellen come from? Was she also adopted?
I have found no clear answer to these questions — no birth, death, or adoption records, and no newspaper articles that mention either "Ellen" or "Marie." I also have not identified either Marie Walker or Ellen Walker in the 1920 census, which is not surprising, as it is likely that either young lady, whether at age 23 or 27, would have been married and changed her surname by then. Unfortunately, I also have found no marriage record for either Ellen or Marie. My guess is that these two girls are the same person, that Ellen's middle initial M stands for Marie, and that her correct date of birth is 1897.

Image of Marie Walker's birthdate and age columns
from the 1900 census.
This latter conclusion is based simply on my observation that in the 1900 census, it appears that the census taker originally wrote down a birthdate of May 1893 and an age of 3 for Marie. When he realized that the two figures were inconsistent, he went back and overwrote Marie's age with a 7. (See inset at right.) Probably, though, the age had been correct, and it was the birthdate that should have been amended.
The next information I have about the family is that Flora died at Howe on 4 April 1914. Her death certificate lists the cause as lobar pneumonia. Newspapers in Idaho and back in Nebraska took note of her passing. She was laid to rest in the Howe Cemetery.
After Flora's death, James married Mrs. Alice P. (Ham) Brannan at Butte, Montana, on 17 December 1917. She had been born 30 June 1879 at Colfax, Whitman County, Washington, the daughter of Charles and Louise (Waymire) Ham. She had previously married Emanuel Elzie Brannan in 1905, had had one daughter with him and had divorced him. Although James and Alice were wed in Butte, the marriage license specifies that they were both residents of Howe, Idaho. The 1920 census shows James and Alice in Howe, along with Alice's 13-year-old daughter Wilma Brannan and Alice's half-uncle Walter Waymire (who was actually 2 years younger than Alice and is listed in the census as a boarder).
James's second marriage did not survive the 1920s, and apparently neither did his farm. The 1930 census shows him working on a highway construction crew in Mesa County, Colorado, boarding with other workers. His marital status there is listed as "widowed," even though Alice was still alive. Alice is not listed by name in the census, but it does show Walter Waymire living in Oakland, California, with an unnamed "niece," who happens to be Alice's age. That niece's marital status is "divorced." The 1940 census confirmed that Alice was, indeed, living with her uncle Walter in Oakland, and James, by that time, was in Pittsburgh, Pennsylvania, working as a warehouseman. Once again, his marital status was shown as "widowed."
I have no further information about James or Alice, except that James died 16 January 1953 and was buried at Dawson, back in Richardson County, Nebraska. Alice lived until 1961 and was buried at Millville, Shasta County, California.
If you can suggest any corrections to the information above or provide any further details about the lives of Flora, James, and their adopted daughter, please contact me at the address shown in the image below:

Thanks,
—Pete Martin
Return to John I. Martin bio page.
Return to John Martin Family home page.
Footnotes:
James's birthplace is shown as Minnesota on censuses from 1870, 1880, 1885, and 1940, and also on his 1888 marriage license, but it is shown as Wisconsin on all censuses from 1900 through 1930, and his 1917 marriage license specifies that he was born in Waupun, Fond du Lac County, Wisconsin. I believe the three earliest censuses are most likely to be correct because the information for them came from his parents, who obviously had a much better memory of James's birth than James himself did. They may also have provided information for the 1888 marriage license, inasmuch as James's father is listed there as one of the witnesses. It is likely that James himself provided information for all subsequent censuses and for the later marriage license, and that he believed, for much of his life, that he had been born in Wisconsin. He may have learned the truth sometime in the 1930s, most likely from his mother (who lived until 1940), so he could then list the correct information on the 1940 census.
Surface Creek Champion (Cedaredge, Colorado), 26 August 1904, p. 4.
The Delta Independent (Delta, Colorado), 20 April 1906, p. 4.
The Newspaper (Paonia, Colorado), 8 June 1906, pp. 3, 7, & 8.