Elza Reeves Martin, was the third child of John I. and Rachel (Reeves) Martin. He was born 11 June 1866 at Sidney, Fremont County, Iowa. His family moved to Richardson County, Nebraska, when he was 3 years old; then back to Sidney, Iowa, when he was 6; and once more to Richardson County, Nebraska, when he was 12. Census records show him in his parents' home in 1870 (as Ellsay), 1880 (as Elza), and 1885 (misidentified as a girl named Eliza).
Elza married (1) Anna Eliza Rhoads on 7 November 1888, at her parents' home in Richardson County, Nebraska. She had been born 19 March 1871 at Lena, in Stephenson County, Illinois. Her parents, Isaac Preston Rhoads and Mary Elizabeth (Weber) Rhoads, had brought her to Richardson County as an infant.
Elza and Anna apparently moved to Colorado within three years or so after they were married, for they had a daughter born in February 1892, somewhere in Colorado, and she was:
Ethel Florence Martin, 1892–1984 (married George E. Stephens).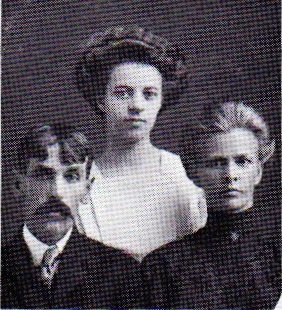 Elza and Anna with daughter Ethel
(in rear), about 1910.1
By 1895, Elza and Anna had settled in Delta County, Colorado, as Elza filed a land patent there in April of that year. They may have been elsewhere in Colorado, though, before that. I have found no mention of Elza in the Delta County papers prior to 1895, but The Solid Muldoon newspaper of Ouray, Colorado, 17 April 1891, reported that "E. R. Martin" filed a mining claim on the Ashley Lode at Ouray.
So, could Elza have been engaged in mining at Ouray? Could that be where Ethel was born? If so, it makes sense that Elza would not have continued that pursuit. The principal ore being mined at Ouray in those days was silver, and owing to a series of political and economic events, silver lost much of its value in 1893. This resulted in what was called the "Silver Panic." A great many miners got out of the business at that time.
The land Elza claimed in Delta County was 40 acres, located on Lamborn Mesa about 2½ miles southeast of Paonia. I don't know how successful Elza was at farming, but he didn't stay at it very long. Within a few years, he had become an electrician and, according to newspaper reports,2 he worked at electrical lighting plants at O'Neill, Nebraska (in 1899) and at Alliance, Nebraska (in 1900). The 1900 census shows him, Anna, and Ethel there in Alliance, Box Butte County, Nebraska.
I do not know how long Elza continued his electrical career or when he might have returned to Colorado. The next information I have is a report from The Newspaper of Paonia, Colorado, 2 February 1906, that he had gone to Somerset, Colorado, to accept a situation in a butcher shop. The 1910 census confirms that Elza, Anna, and Ethel were in Somerset and that Elza was working as a meat cutter. It also reveals that Anna had been the mother of two children, of which only one was living. A similar notation in the 1900 census showed that she had borne only one child (Ethel), so she must have had a second child sometime after 1900 who did not survive until 1910. I have found no grave site nor any newspaper mention of that child.
On 6 January 1911, The Newspaper reported that Elza had quit his job in Somerset and returned to Delta County, where he had purchased an interest in a market in the town of Hotchkiss. On 14 April 1911, it reported he had bought a home in Hotchkiss. Just two months after that, however, came the sad news that Anna had suddenly died. (See inset below.) She developed appendicitis and was taken to a hospital in Salida, Colorado, for emergency surgery. The surgery was unsuccessful (too late?), and she died there in Salida, on or about 12 June 1911. (Note: the trip from Hotchkiss to Salida currently takes about 3 hours for modern vehicles on modern highways. In 1911, this probably would have been an all-day trip, either by train or by an early-day automobile over unimproved roads.) Anna's body was returned for burial at Riverside Cemetery in Hotchkiss.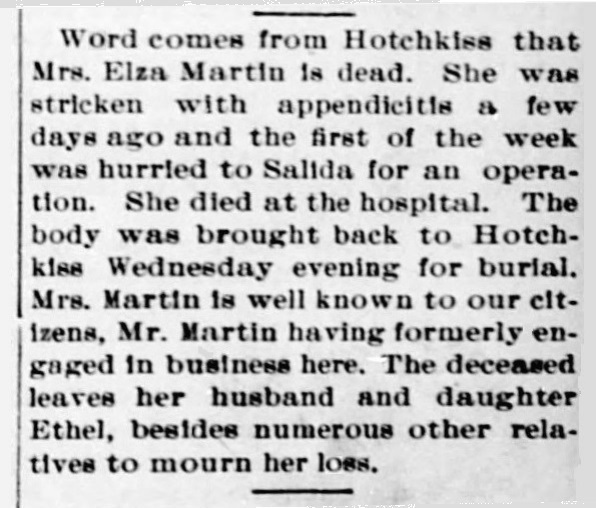 Report of Anna's death from The Paonia Progressive and the Paonia Newspaper,
Thursday, 15 June 1911, p. 1.
Five months after Anna's death, 23 November 1911, The Paonia Progressive and the Paonia Newspaper reported that Elza and Ethel had gone to spend the winter in San Diego, California (which was where Elza's father — himself a widower — then lived). The record after that is not entirely clear, but it appears that Elza did not return to Hotchkiss until sometime in 1914, and he returned without Ethel, for she had, by then, met and married George Stephens out in San Diego.
On 20 January 1915, Elza married (2) Mrs. Cora Ethel (Myers) Hutchison in Hotchkiss. She had been born 9 April 1887 in Ottawa County, Kansas, the daughter of Andrew Jackson Myers and Maria Ellen (Starks) Myers. She had come to Hotchkiss as a young girl and had married Thomas Raymond Hutchison there in 1903. She had moved with him first to Kansas, then to Missouri, and finally to Olathe, Montrose County, Colorado, where Thomas died in March 1913. She had had two children with Thomas: Opal, born about 1905, and Alvin, born about 1906.
Olathe, where Cora lived, is only about 30 miles from Hotchkiss, and Cora frequently visited friends and relatives there. She may have met Elza on one of those visits, or she may have already known him from when she lived in Hotchkiss prior to her first marriage.
Sometime around 1919, apparently, Elza and Cora left Hotchkiss and moved to San Diego. The 1920 census shows them living in an apartment house at 2185 Woolman St. (now known as Ocean View Blvd.) in San Diego. Elza's occupation is once again shown as a meat cutter at a meat market. Listed with them in the census are Cora's children Opal and Alvin Hutchison (ages 15 and 13, respectively), plus a new daughter:
Rachel E. Martin, 1917–1986 (married ??? Peach).
Elza (erroneously listed as "Eliga") and Cora are also included the 1920 San Diego City Directory at the address on Woolman St., but they were not listed in the 1919 Directory, suggesting that they had arrived between the times that those two directories were compiled. Subsequent city directories (1921, '22, & '23) show them at various other addresses in San Diego. Beginning in 1924, however, the San Diego City Directories (which also cover the outlying parts of San Diego County) show Elza and Cora living in the community of Boulevard, which is about 50 miles east of San Diego and just 4 miles from the Mexican border. All of these directories, through 1930, consistently show Elza's occupation as a meat cutter.
The 1930 census confirms that Elza and Cora were living in a rented home in Boulevard, California, with their daughter Rachel, age 12. Here, Elza's occupation is no longer shown as "meat cutter." Instead, he is listed as a laborer for the State Highway Department. Cora's father Andrew Myers and her brother Louis Myers are also shown in Boulevard, on the same census page. Cora's mother had died the previous year, and so is not shown in the census.
City directories for 1931 through 1934 continue to show Elza and Cora, as well as Andrew and Louis Myers in Boulevard, and they show Elza's occupation as "mail stage driver." Two important differences appear in the 1935 directory: Andrew Myers is no longer listed in Boulevard (in fact, he had died in January of that year), and Elza's occupation then is listed as "rancher."
Elza did, indeed, have enough land in the area that he may have been a rancher by then. Records of the Bureau of Land Management show that he had homesteaded 120 acres about 2 miles southeast of Boulevard, in and around the place now (2021) shown as "Sagewood Farms" on Google Maps. It's remarkable to realize that ranching would have been Elza's seventh occupation, so far as we know: he had been a miner, a farmer, an electrician, a meat cutter, a highway laborer, a stage driver, and now a rancher.
Ranching, most likely, was his last occupation. The 1940 census shows Elza, with no occupation, living in San Diego with his daughter Ethel and Ethel's husband, George E. Stephens, and it shows Cora still living near Boulevard, by herself, working as a cook for an Indian school. The most likely explanation for their separation is not any sort of marital discord, but rather that Elza had moved into San Diego to be closer to medical care. That census was dated 1 April 1940, and Elza died in San Diego 8 weeks later — 27 May 1940. His remains were interred at Cypress View Mausoleum in San Diego. I have found no obituary for him.
One of Cora's nearby neighbors in Boulevard (listed on the previous census page) was Albert M. Millard, a widower. He and Cora were married on 10 May 1941, a little less than a year after Elza's death. I have no further information about Cora and her third husband, other than the fact that they both eventually died in Boulevard — he on 13 November 1971 and she on 11 May 1983. They were buried together at a cemetery in Mesa County, Colorado. I don't understand why that location was chosen; I have no information that either of them ever lived there.
If you can suggest any corrections to the information above or provide any further details about the lives of Elza, his wives, and their descendants, please contact me at the address shown in the image below:

Thanks,
—Pete Martin
Return to John I. Martin bio page.
Return to John Martin Family home page.
Footnotes:
Photo from Of Such as These by Minnie Alice Rhoads (just after page 62), although the source misidentified Elza as his brother Charles Martin.
The Frontier and Holt County Independent (O'Neill, Nebraska), 10 Feb 1899, Fri., p. 1, and The Alliance Times-Herald (Alliance, Nebraska) 18 May 1900, Fri., p. 1.