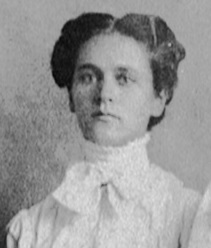 Ella May (Martin) Sare
Ella May (Martin) Sare was the tenth and youngest child of John I. and Rachel (Reeves) Martin. She was born 28 October 1880 in Richardson County, Nebraska. The 1885 Nebraska State census shows her living with her parents and six older siblings in Falls City Precinct of Richardson County. Ella's family moved to Paonia, Delta County, Colorado, when she was 10 years old. The 1900 census shows 19-year-old Ella there in Delta County with her parents and her older brother John. Also in the household at that time was a boarder, Harvey Sare, reportedly employed as a "day laborer." Ella married him at Paonia on 12 June 1901.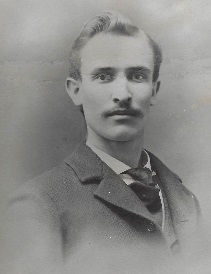 Harvey Robert Sare
Harvey Robert Sare also had been born in Richardson County, Nebraska, on 28 November 1870, a son of Thomas Mathew Sare and Sarah Ellen (Powell) Sare. His family was undoubtedly acquainted with Ella's family before they moved to Colorado, as both sets of parents were devoted Methodists. So it made sense that Harvey, as a young man heading west in search of new opportunities, would come to stay with family friends he had known as he was growing up. He came to Paonia in 1899 and married Ella 2 years later.
One of the skills Harvey had learned, growing up in Nebraska, was harness-making. In 1906, he was hired as the harness-maker for a general store (Stockham Brothers) in the town of Hotchkiss, Colorado (about 8 miles southwest of Paonia), so he and Ella then moved to Hotchkiss. Sometime around 1909, the Delta County Commissioners appointed Harvey to be overseer of roads for the Hotchkiss District, a position he held for the next several years. Local newspapers in these years carried frequent mentions of road and bridge projects that Harvey was managing.
The 1910 census shows Ella and Harvey living in Hotchkiss with their two oldest children. The 1920 census shows them still in Hotchkiss, with all four of their children, who were:
Thomas Irwin Sare, 1902–1993 (married (1) Vivian Reynolds, (2) Mary Geneva Sant, and (3) Mary Quinerly).
Thelma Irene Sare, 1906–1988 (married (1) Ronald H. Schlangen and (2) Willis Poynter).
Robert Harvey Sare, 1910–1967 (married Marjory Elizabeth Fisher).
Lucille May Sare, 1913–1981 (married Wilford S. Allen).
It's important to note that the 1920 census reflects an official census date of January First — the only U.S. census to be dated that early in the year. Hotchkiss was Ella's official residence on that date, although she was not there at the time. The Delta Independent of 16 January 1920 (page 2) reported that she had gone to San Diego, California, a few months earlier for the benefit of her health, and had died there on 2 January. It's unclear whether Harvey was with her then or whether he had gone back to Hotchkiss and left her in the care of relatives. (Ella's father, her brother Elza, and her sister Lula lived in San Diego at that time.) Ella's brief funeral notice from the San Diego Union is shown at right. Her body was returned for burial at Hotchkiss.
Harvey remained in Hotchkiss after Ella's death. He went back into the harness-making business, and opened his own shop there in 1922. The 1930 census shows him living on Orchard Street in Hotchkiss with his two daughters, Thelma and Lucille. His sons, by that time, were both living and working in San Diego.
On 12 November 1939, Harvey married Mrs. Sirena M. (Sullens) Dowse at Price, Carbon County, Utah (although they were both residents of Hotchkiss). She had been born 18 May 1892 at Alma, Marion County, Illinois, the daughter of Charles and Matilda (Jones) Sullens. She had previously married George E. Dowse in Richland County, Montana, in 1915, but had divorced him. The 1940 Census shows Harvey ("Harve") still on Orchard Street in Hotchkiss, along with Sirena, and it shows his occupation then as manager of a retail hardware store. It confirms that he had been at the same address in 1935 but shows that she had then lived in Roosevelt County, Montana.
The marriage didn't last. I haven't found the record of when and where they divorced, but it is known that Sirena went back to Montana and married Arthur Coburn there in February 1945.
In 1948, Harvey went to Monrovia, California, to stay for a while with his daughter Thelma and her husband Wilford Poynter (Monrovia News-Post, 13 Dec. 1948, 8 Feb. 1949, and 19 Mar. 1949). He had returned to Hotchkiss, however, by 1952 (The Daily Sentinel, Grand Junction, CO, 19 Oct. 1952). So far as we know, he remained in Hotchkiss the rest of his life and passed away there on 3 November 1960. A brief obituary is posted at left. Harvey was buried at Riverside Cemetery, next to the wife he had lost 40 years earlier.
If you can suggest any corrections to the information above or provide any further details about the lives of Ella, Harvey, and their descendants, please contact me at the address shown in the image below:

Thanks,
—Pete Martin
Return to John I. Martin bio page.
Return to John Martin Family home page.