Clara Lula (Martin) Stephens
Clara Lula (Martin) Stephens , known as Lula , was the ninth child of John I. and Rachel (Reeves) Martin. She was born 25 January 1878 at Sidney, Fremont County, Iowa. Her family moved to Richardson County, Nebraska, when she was 4 months old, and census records show her there, in her parents' home, in 1880 (as "Lulu") and 1885 (as Clara L.). The family subsequently moved to Paonia, Delta County, Colorado, when Lula was 13, and there she married Lewis Edward Stephens on 11 May 1898.
Lewis had been born 24 September 1869 in McPherson County, Kansas, the son of David S. and Mary Ellen (Hughes) Stephens. His family apparently had moved to Gunnison County, Colorado, around 1880, and then to Paonia about 1882. The 1900 census shows Lula ("Lulu M.") and Lewis ("Edgar L.") in Precinct 5 of Delta County. Lewis's occupation is shown only as "B." Based on what we know of his subsequent career, though, it could be that the census taker was preparing to write "Butcher" and got interrupted or distracted.
So far as we know, Lula and Lewis had only one child, who was born in Paonia, and he was:
Lewis Merle Stephens, 1906–1985 (married (1) Clara M. Shewalter and (2) Myrtle Irene Warren).
I have not found any listing for Lula and Lewis in the 1910 census. We know, however, that they were still in Paonia at that time, although they were getting ready to leave. The Paonia Newspaper of 27 May 1910 stated "J. I. Martin and L. E Stephens and family left Tuesday morning for Idaho, in hopes that the climate would be beneficial to Mrs. Stephens. They also expect to visit California." Lula's sister Flora was living at Howe, Idaho, at that time, so that was probably their specific destination. We also know that they did, indeed, continue on to California (specifically San Diego) after a while, as that is where they settled and lived the rest of their lives.
San Diego city directories for 1911 and 1912 show Lewis Stephens, a meat cutter, living at 816 Irving Ave. These early directories did not routinely list wives' names. Beginning in 1914, the directories show both Lewis and Lula, although the exact forms of their names vary from year to year. Lewis is shown as Lewis E., Louis E., Lewis Edwd., L. Ed, or L. Edw. in various directories. Lula is shown as Lula, Lula C., Lulu C., C. Lula, C. Lulu, or Clara L. The directories show them at seven different addresses between 1911 and 1924, but beginning in 1925, they are at 3650 Boundary St., which seems to have been their address for the next three decades. Most of the directories list Lewis's occupation as a meat cutter, although a few specify that he is a "branch manager" (for a local meat market). Some of the listings include the name of his employer, and show that he worked, over the years, for Spring & Sprague, C. S. Hardy, C. A. Withers, Andrew Williams Meat Co., and Piggly Wiggly.
Lula's brother Elza was also a meat cutter, who worked in San Diego from about 1919 to 1924 (before moving to the town of Boulevard, 50 miles east of San Diego). It's interesting to wonder whether he and Lewis ever worked together, whether one of them had introduced the other to the trade, or whether they got together from time to time just to compare notes on the business.
Census records are consistent with the city directories. The 1920 census shows Lewis ("Edward") and Lula at 2212 Irving Ave. in San Diego, along with 13-year-old Merle. (Strangely, Lula's age is shown as 36, which is 5 years too young.) It lists Edward's occupation as manager of a meat market. In the 1930 census, "Louis E." and "Clara L." Stephens are at 3650 Boundary St., with son Merle L. (age 23), daughter-in-law Clara B. (20), and granddaughter Betty L. (10 months). Lewis and Merle are both meat cutters at a retail meat market.
From other records, we know that Merle's wife Clara died a year later, 6 April 1931, and Merle remarried, to Myrtle Warren, in June 1932. Somehow, it was arranged that the granddaughter, Betty Lou Stephens, would remain with Lula and Lewis, rather than living with her father and stepmother. In 2019, I had a note from one of Betty Lou's sons confirming that his mother had been raised by her grandparents.
The 1940 census once again shows "Louis E." and "Clara L." Stephens are at 3650 Boundary St., with their granddaughter Betty Lou (age 10), plus a lodger, Vivian Reynolds. Louis is a meat cutter at retail butcher shop. Meanwhile, son Lewis Merle Stephens was ~3½ miles away, at 1011 S. 38th St., with his second wife, Myrtle, and sons Gilbert (6) and Neal (4).
San Diego city directories continued to show Lula and Lewis at the Boundary St. address through 1952. There was no 1953 directory (the publisher had changed to printing only in even-numbered years), and the 1954 edition shows only Lula ("Clara L."), widow of L. E. Stephens.
Lewis passed away 17 March 1953, and Lula followed a year-and-a-half later, 6 November 1954. The San Diego Union published only very short funeral notices for both of them, which are shown below. They are both buried at Mount Hope Cemetery, in San Diego.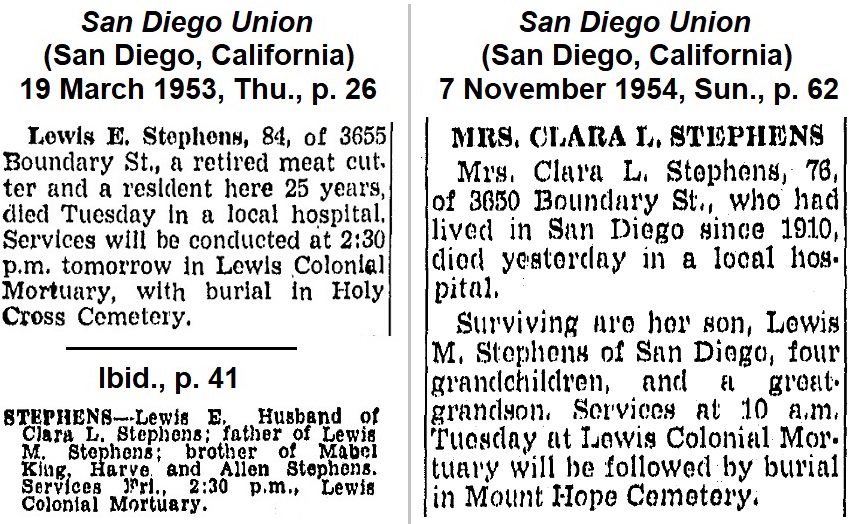 If you can suggest any corrections to the information above or provide any further details about the lives of Lula, Lewis, and their descendants, please contact me at the address shown in the image below:

Thanks,
—Pete Martin
Return to John I. Martin bio page.
Return to John Martin Family home page.