Charles Henry Martin, was the second child of John I. and Rachel (Reeves) Martin, but the first to survive to adulthood. (His older sister, Sarah, died when Charles was 3 months old.) Two sketches of Charles's life have been published, one in 1917 (during his life) and another in 1985 (decades after his death), and much of the following has been adopted from those publications.
Charles was born 14 May 1863 at Sidney, Fremont County, Iowa. His family moved to Richardson County, Nebraska, when he was 6 years old; then back to Sidney, Iowa, when he was 9; and once more to Richardson County, Nebraska, when he was 15. There, finally, Charles grew to adulthood, and there he married Addah Dakota Butler on 4 March 1886. Addah was the daughter of Ephraim Porter Butler and Minerva Jane (McCarthy) Butler. She had been born on 24 May 1866 in Vermilion County, Illinois, and came to Richardson County with her parents in 1879.
At the time of his marriage, Charles was living and working at the farm of his Martin grandparents, two miles north of Falls City, and there his first child, Alta Ruth, was born in January 1887. Later that year, he and Addah moved to a farm in Barada Precinct (still in Richardson County), where their daughter Grace was born. (I have no information about whether Charles owned or rented that farm, or perhaps was employed by the landowner.)
In 1891, Charles and Addah moved to Delta County, Colorado, along with Charles's parents and siblings. There, Charles proved up a claim on 80 acres on Lamborn Mesa about 2 miles south of the town of Paonia. It was a remote, unsettled area at that time, and the altitude proved to be unhealthy for Addah, so in 1896, they returned to Richardson County and lived in Falls City, where their son Melvin was born. Soon after, they moved to an 80-acre farm Charles had acquired one mile north of Barada, which was their home for the next 22 years. The 1900 census shows Charles and Addah living in Barada Precinct of Richardson County, with their three children:
Alta Ruth Martin, 1887–1969 (married Philip Markt).
Grace Elfie Martin, 1889–1975 (married Roy Herbert Dunn).
Melvin Henry Martin, 1896–1980 (married Matilda Matthews).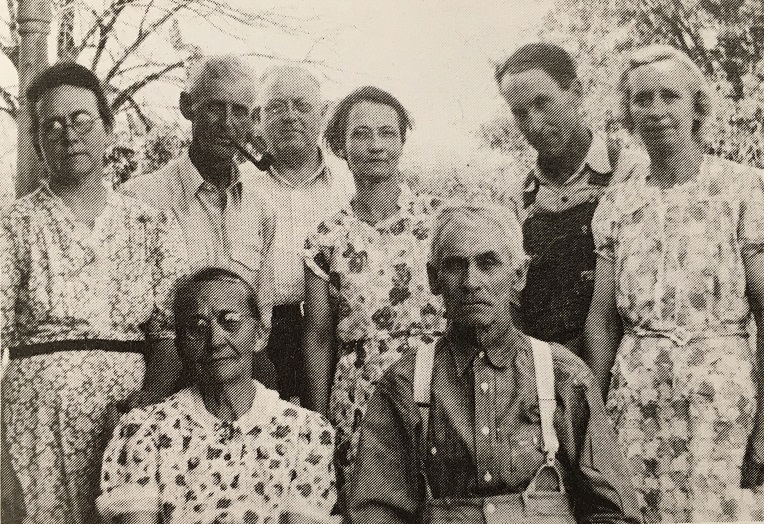 The Charles H. Martin family circa 1940. Addah and Charles are seated in front. Standing, left to right, are Alta (Martin) Markt, Philip Markt, Roy Dunn, Grace (Martin) Dunn, Melvin Martin, and Matilda (Matthews) Martin. Photo from Richardson County History Book Committee, 1985, Richardson County 1985, p. 221.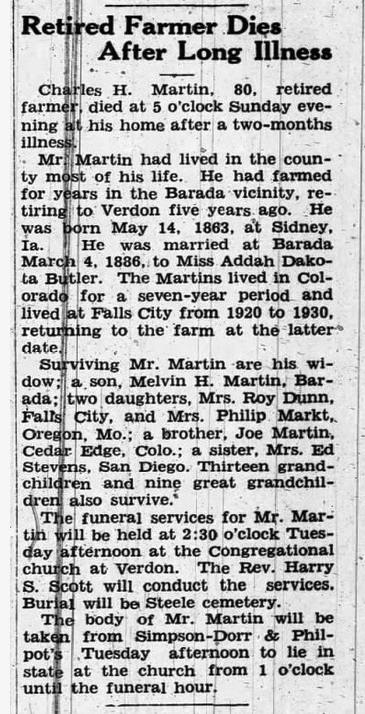 Charles's obituary, from the Falls City [Nebraska] Journal, Monday, 3 January
1944, p. 1.
As of 1910, the two daughters had married and moved out, and the census shows Charles, Addah, and son Melvin still in the same place. In July 1919, however, Charles bought a home in Falls City, at 902 East 19th Street, which is where he and Addah were living, without any children, during both the 1920 and 1930 censuses. Both of these censuses show no occupation for Charles. (Perhaps he was just living off of savings accumulated during his years of farming?)
Charles sold his Barada farm in 1920, and then bought another 80-acre farm in the same area in 1927. Nevertheless, he and Addah continued living in Falls City until 1933, when they moved to the new farm north of Barada. There Charles continued farming until he retired in 1938. He and Addah then moved into the town of Barada, which is where they were shown to be in the 1940 census. Charles died there in Barada, on 2 January 1944. The Falls City Journal printed an obituary (shown at right), and he was buried at Steele Cemetery in Falls City.
Addah remained in Barada by herself for a few years after Charles' death, but her failing eyesight prompted her to move in with her daughter Grace and Grace's husband Roy Dunn in Falls City, apparently sometime in 1948. It was there that she died on 27 February 1954. She was laid to rest next to Charles at Steele Cemetery. I have not found any obituary for her.
If you can suggest any corrections to the information above or provide any further details about the lives of Charles, Addah, and their descendants, please contact me at the address shown in the image below:

Thanks,
—Pete Martin
Return to John I. Martin bio page.
Return to John Martin Family home page.